If you were worrying about it, are there roof top tent options for my 2 door jeep.This article is for you.Fitting a roof top tent to the jeep is a great start for another kind of adventurous life.
There are a lot of good roof top tent options for a 2doors jeep. I lined up few of those roof top tent options below.
SIMPSON III ROOFTOP TENT
KAKADU ROOFTOP TENT For 2door jeeps by ARB
TEPUI RUGGEDIZED SERIES KUKENAM 3 TENT
OVERLANDER ROOF TOP TENT BY SMITTYBILT
SKYCAMP MINI ROOF TOP TENT

We'll talk about the above roof top tents deeply in this article. Before that I'll tell you all the roof rack options for those roof top tents as extra details for you!!



Roof Racks for 2door jeeps.

There are a few different roof rack options for 2 doors jeeps according to your type of top (soft or hard) , mounting method (drilling or non drilling ) and type of rack.
Here the type of rack means there are racks that have just two crossbars , some have platform racks and so on.I'll tell you what are the racks that I had found on my research suitable for fitting a roof rack tent.
please note that I don't have any personal or business partnerships with any of these companies.


Rhino rack vortex backbone
This is the easiest roof rack you can install to your jeep. It doesn't need any drilling or modifications and you can install it in a few minutes.This doesn't impact badly on your jeep capabilities.
This has a minimal design. To increase the loading capacity this has an internal frame fits inside from your jeep like in the below image. That's why this is called vortex backbone.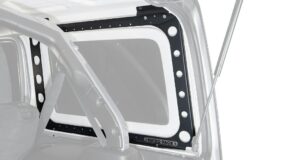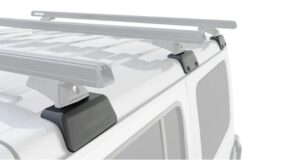 Check Price on Amazon

The backbone the static loading capacity is about 790 lbs. (360kg). There is a variation without the backbone. It doesn't cost much. But it can only handle up to 220 lbs.
But both this fits with your jeeps hard top gutters from outside. It fits with a simple trigger locking mechanism. So you should have a hardtop jeep to install this. Don't worry if you have a soft top. I will tell you more options.


Rhino rack pioneer platform with backbone.

Check Price on Amazon

This is a variation of the above rhino rack vortex. Instead of two cross bars, this has a strong tray. It is attached with the inner backbone similar to the vortex rack. The dimensions of this rack are as follows.
1328L x 1426W x 39H mm
According to manufacturers this has a static weight capacity of 530 lbs. and dynamic weight capacity of 220 lbs.


Barricade Roof Rack

Check Price On Amazon

This is a very versatile rack manufactured from Barricade. It mounts to the front windshield bars and bottom rear quarter panel without drilling.
The best thing is if you have a hard top, you can remove the front freedom top without removing the rack and if you have a soft top, the rack can tilt back to open or close the soft top.
According to the manufacturer, the weight capacity of Garvin wilderness rack is 350lbs.


Gobi racks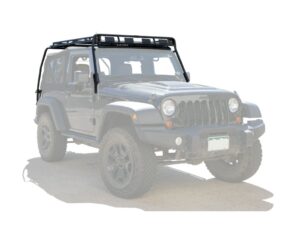 This is the most strongest and stable rack option you can fit to your 2door jeep regardless of whether you have a soft top or a hardtop.
According to the manufacturer this rack can hold up to 800lbs of static/parked weight and 300lbs of dynamic/driving weight.
Rack builds with 1 inch heavy gauge tubing. You can fit this to your jeep without drilling or modifications to your jeep.
The Stealth Rack also comes standard with a metal wind deflector, rear, driver or passenger side ladder and adjustable crossbars that are compatible with the wide range of Thule and Yakima accessories as well as roof top tents! The only decision you need to make is where your next adventure will begin.

Says GobiRacks.com.
You can buy from them, if this is your choice. This costs you about $1595
Those are the rack options I found. I make them according to the lowest weight capacity to highest weight capacity. The last two have the highest weight capacity.
So according to your needs you can decide which rack option may most suitable for you.
According to manufacturer's all of those above racks can be used for fitting a roof top tent. But you should consider the weight you are going to load on the rack.
First two racks are only for lower loads. Be cautious about that.otherwise you may end up with damaging your jeep.
Let's look for the best roof top tent options and what are the modifications you can do to the jeep to get the maximum juice out.



Best Roof top tents for 2doors jeep.


There are a lot of roof top tents in the market from different manufacturers in different styles. It's clear now every time manufacturers are trying to improve the quality, comfort and feasibility of their rooftop tent.
In roof top tents also there are soft top roof tents and hard shell/popup roof top tents. Considering those two categories, they have their own pros and cons. We'll see those things also in this article.
But in our case not every roof tent is matched with our 2door jeep. Most of the hard shell tents are not matched with the length of a 2door jeep.
But I had found few manufacturers, who make hard shell roof tents match for our two door jeep. I'll give names of them.
But keep in mind that I don't have any commission or partnership with those manufacturers.
There will be many good roof top tents other than below. With that in mind let's see a few best roof top tents for our 2door jeep.


Soft tents

SIMPSON III ROOFTOP TENT


Australia's largest manufacturer and distributor of 4×4 accessories, ARB manufactures this SIMPSON III rooftop tent and KAKADU rooftop tent. matching to their philosophy of "quality, reliability and practicality above all else" , their products also won the trust of users for years.
specifications –
Name   –  SIMPSON III ROOFTOP TENT
Size packed – 1400mm (w) x 1200mm (l) x 1300mm (h)
Size opened – 1400mm (w) x 2400mm (l) x 1300mm (h)
Person Capacity  –  02 (adults)
Weight  –   81 kgs. (Total weight)
Overview : This tent can be set up easily in a few minutes. All bedding remains inside the tent after folding.That is a great feature. So set up is easy. Material is high quality, waterproof, poly/cotton ripstop canvas.
Mattress : Inside the tent 2.5″ high density bonded chip foam mattress with removable cover for increased comfort and durability.
Protect from insects : A hidden but huge problem for campers is insect bites at night in most of the areas. ARB has given the best solution for it. They integrated fine insect screened windows and doors. It protects you from the smallest insects for better night sleeping.
Ladder : It has an anti corrosive retractable ladder with anodised aluminium.
There are internal pockets for your phones, keys. If you have more than 3 sleepers, then all the simpson III comes with removable zip on annex.
It can be used as a changing room also if you want more privacy. Finally there is a uv stabilised, laminated pvc cover for protection of the tent after packed away.


Check SIMPSON III ROOFTOP TENT Price on Amazon


KAKADU ROOFTOP TENT


As I mentioned previously this is also a product of ARB. This is designed mainly aiming at camping adventures in warmer climate conditions. For greater airflow inside the tent it has larger windows. It increases the natural light coming to the tent.
Specifications –
Name  –  KAKADU ROOFTOP TENT
Dimension packed  –    1400mm (w) x 1200mm (l) x 400mm (h)
Dimension opened   –  1400mm (w) x 2400mm (l) x 400mm (h)
Person Capacity  – 02
Weight   –  59 kg
Overview : This has a lightweight user friendly design.specially designed mattress of kakadu roof top tent is reduced the overall weight of this tent than the simpson III tent and assists with folding during pack.
Mattress : High density, single layer extruded foam mattress
Tent material : Manufactured from poly/cotton rip stop canvas with polyurethane coating for waterproofing.It integrated with Oxford weave polyester flysheet with better water shedding ability.
Kakadu also has the insect protection door and windows, internal canvas window shutters to give protection from bad weather conditions. All the aluminum components are anodized and corrosion resistant.


TEPUI RUGGEDIZED SERIES KUKENAM 3

This is a somewhat tough tent you can buy in the market. Due to the tough material that these tents manufactured, this tenet is heavier than standard tent models.
As a special feature this has a built in sky panel which allows you to greater view of the sky and surrounding in the night. For that the rainfly can be easily removed.
Specifications –
Name – TEPUI RUGGEDIZED SERIES KUKENAM 3
Dimension closed – 56″ x 48″ x 12″ (W x L x H)
Dimension opened –  56″ x 96″ x 52″ (W x L x H)
Person capacity – 03
Weight – 180lbs (without annex)  convert in to standard standard units
Overview : This tent comes in haze gray and olive green colors. This can be attached to most of the roof racks and crossbars because this comes with universal mounting brackets. Can be set up and packed away in minutes. Heavy duty welded aluminium frames can withstand heavy rains and winds.
Material : series 3 kekunam manufactured with high quality 360g dual stitched polyester cotton canvas and 600d rip-stop material. That is why the weight is also increased. That may be a disadvantage for off roaders sometimes, because overall weight is increasing and it affects vehicles capabilities and mpg also.
Mattress : This has a very comfortable 2 ½" thick high-density foam mattress.
Kekunam 3 has waterproof zippers, insect prevention mesh on large windows , Telescopic 8ft×6 inch ladder which is helpful for climbing highly lifted overlanding vehicles.


Check KUKENAM 3 Tent Price On Amazon


Overlander roof top tent – smittybilt


I think you know about smittybilt pretty much if you are in the off-roading industry. Smittybilt is a specialized manufacturer of jeep accessories. They are a brand that won the trust of their customers for decades.
When it comes to their roof top tents , they also manufacture keeping their quality standards.
Specifications
Name – Overlander roof top tent
Dimensions packed – 47" W x 56" L x 11" H
Dimensions opened –  95" W x 56" L x 51" H
Person capacity  – 03
Weight –  132 lbs
Overview : This is a good tent model that can buy for an affordable price with all the standard options. But keep in mind this tent is not tough like the TEPUI or any other expedition grade roof tent models. So you can't expect such a tough usage from this tent.
But for their price it gives you the value more than enough. It will protect you from heavy rains and winds. This fits with most of the jeep models even with smaller jeep models.
Material : 600D heavy-duty ripstop material, and it is waterproof.
Mattress – It comes with a 2 inch thick foam mattress.
This roof top tent also has a sunroof that can uncover when you need, a mosquito net which covers windows and the door, shoe bag, interior LED light, cigarette lighter adopter,ladder and rainfly.
So those are 4 best soft roof top tents that fit with your 2doors jeep. Apart from those there are hardshell roof top tents also.


Check Overlander roof top tent Price On Amazon


Hardshell roof top tents

Hard-shell rooftop tent like a modified version of soft roof top tents. Apart from a soft tent roof this type has a hard shell roof and a bottom. It can pop up easily in a minute.
All the necessary things like mattress and pillows, shoe bags, lights are integrated in the tent.
I had found a few best hardshell roof tent options from a few trusted manufacturers. There may be more best manufacturers out there other than these.
But it's hard to find a hardshell for 2 doors jeep. Most of them are matched for the length of a 4door jeep.


Skycamp mini roof top tent.
Skycamp mini is an innovation of ikamper. They are manufacturing unique, quality roof tents for overland and camping customers.
Ikamper create different types of harshell roof tents. But for a 2door jeep, this is the suitable model.
Specifications
Name – skycamp mini roof top tent
Price – $ 3499.00
Dimension closed – 140 cm × 146 cm × 33cm
Dimension opened – 257 cm × 257 cm × 122 cm
Mattress diemensions – 67 cm × 133.6 cm
Person capacity – 02
Weight – 57 kg
Overview – The mattress dimensions are approximate values, because that area is not exactly squre shaped. Width near the door is higher than the width near the hardshell when tent is opened.
Material – Tent is made of breathable, poly cotton canvas. Have waterproof zippers and rainfly for extra protection.
Hardshell is made of fibre – reinforced plastic. This has two layers for insulation and extra strenght. This two layers gives a built in air insulation, sound proofing and condensation resistance. This can set up in a minute easily.
Mattress – This integrated with a comfortable memory foam mattress.
Colors – There are black color hardshell and rocky black color hardshells. Rocky black is matte and scratch resistant finish.


Bonus options…

Apart from above mentioned roof tent options, I thought to tell you another option. Some of our off-roading pals may be interested in this.
This is buying a trailer for your two door jeep. There are benefits of this. That's why I thought to put that also in this article.
dinoot.com have these trailers. I'll break down it's pros and cons below.
pros.
Main advantage is you can use your jeep without packing the camp each time you need to run somewhere.
This trailer tent can be dropped as a basecamp and use it.
The carrying capacity doubles
Eliminates center of gravity issues when packed on roof
Eliminates height issues when parking in garages.

cons.

Cost is somewhat high
If you don't have much space parking may be a problem
Here the MPG is decreased only when the trailer is attached. So the MPG is not decreased every time as when running with a rooftop attached on the jeep roof.


Hardshell vs Soft shell roof top tents.

Hardshell
Easy setting up with with in a minute
Because of having a top and bottom hard shells they packed tightly, everything in between them. Like a mattress,pillows and tent.
That reduces the effect of center of gravity when off-roading, rather than a soft shell tent.
Because of the aerodynamic shape of the hardshell, it increases the fuel efficiency rather than a soft shell tent.
Hardshell can give good protection against wind, snow and rain.
But the price is higher and the space is lesser than a softshell tent.


Softshell
These tents are cheaper than a hardshell tent
Best advantage is the space. The bifolding tent doubles or even triples the space, when opened up.
These tents have a lot of customizable options. As an example some have the option to cover and uncover the sunroof.
But packing up may be more difficult than a hardshell. Because the fabric tent has to fold and tuck properly between two floor boards.


Final word

Before finishing this guide, I thought you may like to see what are the storage mods you can do to your jeep before your next adventure.
Because the limited space of a jeep is a common problem among most offroaders and overlanders. You can read about cool storage mods to maximize your jeep storage by clicking here.
And also if you like to improve your jeeps comfortability before your next journey you can read my guide for that by clicking here.
I think now you get the proper knowledge on choosing a rack and rooftop tent for your two doors jeep. Every-time think about your needs and choose the rack and tent.
If you find this article helpful, share this with your friends. It' easy. You just have to click one of the share buttons below.

Peace !!