When I was going to buy a jeep wrangler one of the major questions aching in my head was should I choose a hard top or a soft top jeep.so that I had done some research and came up with the best solution.
Best solution is buying both tops if you are having trouble in choosing between hardtop or soft top.
If you are living in an area where you face both winter and summer or all the four seasonal changes, the best option you can have with a jeep is taking both tops. You can switch between them when you need.
In this article I'll give you a comparison between soft tops vs hard tops, what are the benefits of having those tops separately.


Pros of having a hard top

Extra security, Reduce noise, warmer in winter, durable, long lasting

As you can understand, having a hard top gives your vehicle good security and passengers a good protection.for thieves it may be harder to enter your jeep than it's having a soft top.
If you are a daily user of your jeep you may find that having a hard top is cool because it cuts the noise than when riding with a soft top.
If you are living in an area where you have to face a winter season hardtop is the best option. Soft top is easily damaged in winter season as well as hard top keeps the warm in the vehicle than soft tops.
Even on sunny days with high temperatures hard tops protect the passengers from heavy sunrays than soft tops.
Overall hard tops are strong and durable. It lasts long with any weather condition and gives the necessary protection from outside threats than soft tops.
You can fit a hood rack on your hard top and transport your essential gears like off-roading recovery kits and other outdoor equipment for your camping purposes.


Cons of having a hard top

Difficulty in removing and fitting, more space consuming, some aftermarket tops may not work well

Hard tops have this major problem that it's not easy to remove or fit again to the vehicle. It's time consuming and also may need at least two people to remove it safely.
Next problem is after removing, the hard top has to be placed safely. It needs a somewhat large space. If you have a garage or any safe space this may be a problem.
But if you are living in a restricted place with two or more vehicles this will be a huge problem.
If you want to fit a hard top, stock hardtops work fine. After market options also less and most of the aftermarket hardtops are not much better than the original stock hardtop.
So you may have to find a used hardtop that is sold by a dealer.
If someday you have to replace your hard to to new hard top it will be more expensive than buying a few soft tops.


Pros of using a soft top

Easy to remove, cheaper, reduce weight
Soft tops are very easy to remove. They do not need much space. Foldable. Having a soft top is reducing the extra weight of a hard top. Low weight may be useful for off-roading purposes.
Cost for a soft top is very much lower than a hard top. Soft tops can resist background resistance for some extent. When off-roading they may not be ripped/torn by a branch.
Generally if you have good weather conditions and hope to go for some outdoor adventure, a soft top will give you a good feel.because you can go outdoor topless.
The soft top is foldable and could be kept in your jeep. If you need to cover your jeep due to a sudden rain you can cover your jeep quickly by using a soft top.
There are so many variations of soft tops. You can have sunroofs, full tops, half tops and more. So it's more versatile than hard tops. Normally they just come with one design.


Cons of using soft top


Less protection, high noise, easily damaging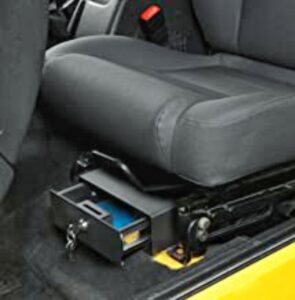 Soft tops can be easy targets for thieves. Normally soft Tops have zippers to cover. But you can fit an under seat lockbox which can keep your valuable things locked and safe.


For highways soft tops may not work well. High noise may be a problem for passengers, it may not interrupt your conversation. But it's not sealed enough to cut the road noise.
If you have a winter season heavy snow falling can damage the soft tops. Even the extremely low temperatures will easily affect the passengers inside the vehicle due to thin material. Zips also can be corroded by saltiness.
In summer time some areas have extremely high temperatures.then using AC is the best option.for that soft top will be a problem.
If you are off-roading in deserts the fine desert sand can easily enter the vehicle. If you have valuable electronics in your jeep like cameras, laptops they can be harmed by that dust.


What will be the best top suitable for you ?


So far I have told you so many pros and cons that you can get from both soft tops and hard tops. But sometimes still you may figure out that you can't decide what to choose. So I'll give you some help for that.
If you are living in a area that you have to face all four seasonal changes or heavy rains or heavy snow falling for many months a year or if you are driving your jeep for long distances on normal roads and you carry your valuable things like laptops, cameras and such kind of things it may be good to go for a hard top jeep.
But even though you like to go for some outdoor activities like off-roading, campings and breathing some fresh air on the outside you may need a soft top also.
In that case I think with having a hard top you should buy a soft top also. It's not much expensive and also it can be placed in a small space by folding.
So in the summer or a sunny weekend you can remove your hardtop with the help of your friend and fit your soft top. You can go for your adventures.
In winter and rain you can put on your hard top and do your jobs. Choose according to your situation. Keeping both is also a good option you can have.
If you find this article helpful you can share this with your friends. You just have to hit one of the share button below.

Peace !!