Brakes of a jeep should be in best condition for both on and off the pavement drives. In jeeps brake pads can worn out faster due to many reasons. we'll discuss them at the end of this guide.
In this guide, first I wish to introduce you to the best recommended jeep brake pads by experts. Before that I should tell you that , I don't have any business partnerships with these brake pad companies. So these are unbiased recommendations and keep in mind these are selected according to users experiences. Before buying make sure to check the compatibility of brake pads with the year of your wrangler.
According to user experiences best brake pads for jeep wranglers are ceramic from Wagner called thermoquiet brake pads, hawk brake pads, EBC brake pads, Power Stop Z36 brake pads and Black magic brake pads.



Ceramic thermoquiet brake pads



From the name you know that this is a ceramic brake pad. Ceramic brake pads are made of ceramic compounds and copper fibers. Because of these compounds these brake pads perfectly handle high brake temperatures. Reduce heat fade, less dust and wear of both pads and rotor.
This Ceramic Thermoquiet has a really good stopping power. According to my experiences and reviews of most of the users, this brake pad gives more stopping power than stock brake and it's actually quiet.
Most of the users got this quiet / low noise braking experience while very few experienced a noise in cold braking and it goes away after applying the brake a few times.

Pros
Spreads out sound, vibrations and heat reducing the brake fade.
Reduce the wearing of rotors due to its special design
Reduce the wheel dust due to low wearing of pads and rotors Laser shaped pad to rotor interface for high brake performance and high stopping power.

Cons
Some users experienced a squealing noise in cold braking.


EBC Brakes



EBC is a great name that binds with brakes and brake pads for years. Without any doubt EBC integrates their pride in their products.
If you decide to replace your stock brake pads with EBC I'm pretty sure you get the result in no time. Due to their manufacturing quality this brake pads gives a great stopping power and very less fade especially EBC green stuff brake pads.
There are some brands that fade less but damage and wear brake rotors easily. But EBC doesn't damage your rotors like some other brands while doing it's job pretty well.

Pros
Great stopping power Quite braking
Less brake fade
Less damage to rotors

Cons
Costs extra few bucks, but it's worth that extra cost.


Power Stop z36


My next recommendation is power stop z36 for your wrangler. Actually this is a best choice for modified jeeps. If you fit bigger tyres for your jeep or your jeep got extra weight due to modifications or you had lifted your jeep, exactly you feel the need for a better brake set.
If you are in the above category the power stop will do the job. According to users this brake gave huge improvement of stopping power even in a jeep with 800lbs of aftermarket parts and 37″ tires.
Even in the steepest decline jeep stops easily without an issue.
These brake pads are made of carbon fiber ceramic. It comes with drilled slotted and plated rotors which keeps temperature down and performance up in extreme conditions.
This gives a dust free noice free stopping power to your jeep. But according to my research power stop z36 wears out somewhat fast. Most of the users experienced this.
But I should mention to you that this is a somewhat common scenario for most of the high performance brake pads. They wear out faster than a normal brake pad.

Pros
Excellent stopping power for jeeps with lifted suspensions and bigger tires in extreme conditions Noise free Dust free

Cons
Wear out faster than a normal brake pad


Hawk brake pads


Check Price on Amazon

Hawk is a manufacturer in the friction field for about 25 years. They manufacture brake pads for many categories of vehicles including racing tracks to off roads.
When it comes to jeeps , many users find this brake pad doing well for them. Normally high performance brake pads like these work well in high temperatures like in race tracks.
For off-roading like rock crawling these brake pads may not be the best option.
But now these brake pad companies claim that their products work fine with every temperature conditions. That means even for cold braking they work fine.
But according to my experiences hawk may not be the best for off-roading. There are best options out there.
But it's no doubt that hawk brake pads are worth the money you spent. They give dust free quiet braking. Gives good stopping ability but I didn't feel it was better or worse than the stock.
Stopping ability is just fine in cold braking. Not a great improvement than stock brake pads.
I should tell you that it's not a surprise that they don't produce much dust because they wear out less. Rotor biting is very low.
So I think this is a decent brake set for jeep users for day to day use. But for extreme off-roading purposes there are way better brakes set options in this list also.

Pros
Dust free quite braking Less rotor bite
Less wear out

Cons
Not the brake set with best stopping distance


Black magic brakes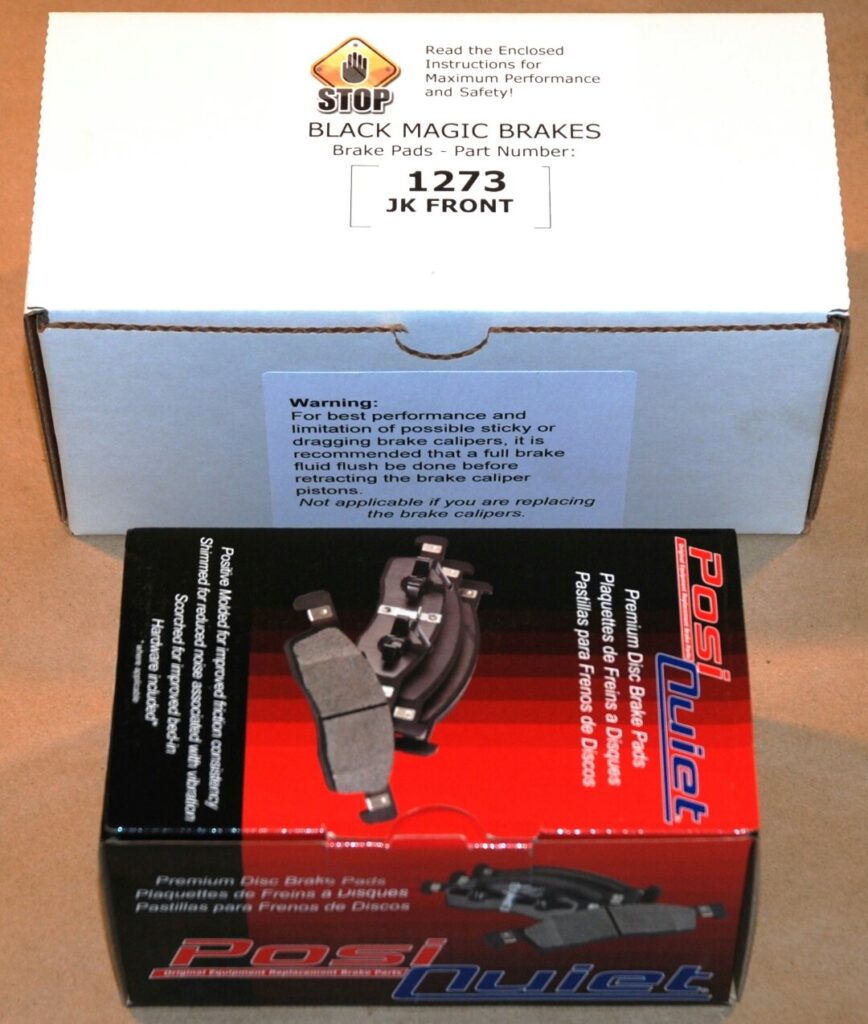 Best things come late. Without any doubt my best recommendation for your jeep is Black magic , if you really concern about brake performance. Actually I'm not trying to choose another brake set for my jeep after finding black magic.
Now I'm running with these brake pads for about 3 years and it's incredible. Even after 19k miles my front pads are worn out just about ⅓.
These brake pads can lock your wheels easily when applying brakes. If you don't have ABS be cautious about it when applying brakes at high speeds.
Even after 3 years I feel like the 1st day of installing Black magic. After bedding the pads with rotors, pads work more efficiently.
But you have to deal with brake dust. Black color dust will stain on rims unlike in cheap ceramic pads.
Personally I don't have any cons to mention about black magic. Only thing is the black brake dust. But I don't care about it much. Because this is a jeep and I'm an off- roader.
I only care about brake performance. As off roaders we have to deal with mud dust. It's normal. So who cares about brake dust on rims if that brake set is doing an excellent job.
You can get best result by replacing stock rotors with centric rotors to work with Black magic brake pads.

Pros
Excellent stopping power
Noise free braking
Very low wear out

Cons
Black dust on rims


Faq's

Why do rear brake pads wear out faster than front brake pads in my jeep ?
This can happen due to few reasons. your jeep's Electronic stability programme(ESP) , Traction control and Limited slip differential(LSD) works with rear brakes.
So that if you are driving in different road conditions that activate those systems, unintentionally those systems use your rear brakes to control your vehicle.
So that can lead to fast rear brake pad wear out. You can learn more about how traction control works by clicking here.

How do I know if my brake pads have worn out?

When the brakes are engaged you may notice a squealing or screeching noise. But don't misunderstand that noise with the noise that appears when brakes are exposed to wet conditions.
wet conditions also can cause that squealing noise due to appearing a thin layer on rotors.
If you inspect the brake brake pads and you notice that there are less than a quarter of the brake pads that is also a sign of worn out brake pads.
Some vehicles have indicator lights on the dashboard that indicate when brake pads need a replacement.
With that we come to the end of this guide. If you like to add a few cool modifications to your jeep that costs less than $100, you can read my article on wrangler mods under $100 by clicking here.
If you are an off roader you can read my guide on cool storage mods you can add to your jeep by clicking here.


Peace!!


Image credits : wagnor.com, ebcbrakes.com, powerstop.com, hawkperformance.com , shop.blackmagicbrakes.com