Jeep wrangler designers always try to give the best jeep experience for their users in so many ways. It was proved by them so many ways throughout their manufacturing process for more than seven decades.
In jeeps their specially designed top/roof is one of major things that gets a huge user attraction. Time to time they try to add new features for the top, considering the users needs. From passing hardtop, soft top and dualtop generations new it comes to the sky one – touch power tops.
Jeep describes sky one-touch power top as the top,
Allowing occupants to quickly and conveniently retract the fabric roof and experience open air freedom with a push of a button.
I get that because it's the best and simple description that can be given to that.
As much in their explanation about power top this is a good combination of hard top experience and soft top experience and a quick swapping between both of the tops.
How to operate sky-one touch power top?
Get into the vehicle and start the vehicle. It's good to start the vehicle because operating the power top drains the power.but it can operate without starting. As a good practice you can start the jeep.
Then you can press the button and hold. Then the top will go all the way back to the second row and it gently folds nice and neat into the back in an aesthetically pleasing manner.
According to the jeeps manufacturer you can push this button and hold it while driving up to 60miles an hour. Above that speed it may operate in somewhat sketchy due to the wind.
If you have used a soft top you know that it's a little bit of trouble to put the front buckles due to difficulty in getting the laverage.
But those troubles went away with this power top.you just have to press and hold the closing button.you can do it even while driving. In a soft top you can't close it while driving. You have got down from the vehicle.
You can stop the opening soft top in the middle way according to the passengers choices. If the rear passengers don't want to open their top you can open only the front unlike in soft tops. In soft tops you can't stop in a middle.it have to open all the way back.
After opening the top , if you want more wind going through your jeep you can open the back quarter easily.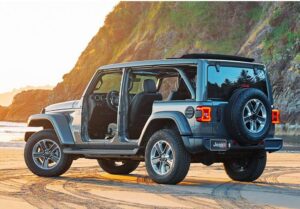 New jeep jl, doors off and back quater removed
They just have two buckles to lose and can take off the side windows and can remove the four doors also. (But jeep company recommend to doors off and windshield down off road use only)
If you need you can fold the front windshield for more opening. You have to find a safe place to keep your doors and side windows after removing them without scratching.
That means this jeep doesn't have the plastic windows that come with soft tops.so this gives more protection to your luggages inside the jeep when parking in urban areas.
The rear windshield can't be removed and unlike soft tops this power top system can't be completely removed. Actually it's not a big deal because you get the open air when the top opens as much as in an opened soft top.
While giving the open air experience to the users easily ,this weather proof seal of sheet molded compound resin gives the protection from weather conditions like winter and heavy rains as much as a hardtop. This cut the road noise as much as a hardtop when closed the top.
Over all this may be a good choice for the people who are not much like working with nuts and bolts while like to feel the wind going through their hair.
If you can afford more 4000$ for your jeep, the protection and quietness of a hardtop and the nice open air feeling of a topless jeep can get in to your fingertips.
This is just a short article about new jeep wrangler sky one-touch power top. But I hope, I had answered your questions about sky one-touch power top.
If you finds this article helpful, share with your off roading friends. You just have to click a share button below.
Peace !!