Are you an owner of jeep wrangler jk, who is looking for cool modifying ideas without breaking the bank? Then congrats!! You spotted the right place. This blog is dedicated for jeep modifications. But this is not a marketplace. I'm also an off roader and a jeep lover. So I just try to show you some budget friendly and best mods.
In this guide I'll show you 20 cool and cheap modifications that can do for your jeep jk. As examples Mopar door sill guards, Door hinge mounted side steps, Sunpie LED head lamps, Remote control Exhaust kit, Slim powered subwoofers and Grill mesh can add for less than $100 to your jeep wrangler jk.
Most of these modifications will make your life easier while giving a good road presence to your jk. You can find most of these mods on amazon. Without further ado let's get started.
Motor trend jeep jk floor mats
I suggest you upgrade your stock floor mats as my 1st suggestion. Because jeeps are usually used for outdoor activities like off-roading, camping etc.
So that mud, dust, sand and different debris usually try to abuse your jeep floor.
Especially if you are an off roader, you may know what I'm talking about. You can protect your floor with a normal or stock floor mats. But the problem is when you get into the cleaning process, you will face difficulties.
So it's good to choose a good set of floor mats, easy to clean and that will protect your jeep floor without spending more than $100.
Sans auto jeep floor mats
Both of them are durable and withstand all weather conditions dirt, mud and snow. They can trap even the small dust and debris particles. Easy to clean any time. There are non slip holes for secure placements.
2.Entry guards
Mopar door sill guards
As well as the floor of the jeep next place that faced so many abuses are the door sill surfaces. I saw this mostly in lifted jeeps because people try to get into the jeep with placing their foot into the door sill.
Not only in lifted jeeps most of the jeeps door sills tend to wear out or scratched the paint and damage due to placing foot on there when trying to jump into the jeep.
So that it's easier and inexpensive to fit entry guards to your jeep than painting or repairing from time to time when door sills got damaged. I found two entry guard options for you cheaper but durable and high user reviews at amazon.
They are Mopar door sill guards and Rugged ridge all terrain entry guards. 
Rugged ridge door sill guards
Both of them are less than $100,durable and easy to fit. Keep in mind to clean to surfaces well and dry out before fitting them. They will do the job for you.
3.Grab handles
Normally jeep jk have their grab handles near the windshield. That spot is ok for jumping in and out of the jeep. But it's not the best place for a grab handle when doing off-roading or any adventure jeep riding.
Even in most of the cars there are grab handles near the top of the door frame. But due to some reason jeeps don't have such grab handles. But it's not a problem.
You can get a cool and very strong grab handle for a few bucks that can fit easily with locking a few belts. They can fit into your roll bars.
Roll bar grab handle
There are many options on amazon. But check for user reviews before purchasing. The above mentioned grab handle has good user reviews about durability and easy installation.
4.Door hinge mounted side step
Personally I'm very happy about this idea!! I have a roof rack and I attach a roof top tent for my camping adventures. But it's a bit difficult to get on to the roof of the jeep. Normally we have to put one foot on to the foot step and the other foot onto the window frame lightly and get on to the roof.
Actually it's a bit of a struggle. You may also have that experience if you ever tried to get on to the roof of the jeep.
Door hinge mounted foldable foot step
But this is the solution for that. This is like a foldable foot step mounted to the body of the jeep. Oh!! Don't worry. You don't have to drill your body.
You just have to mount this to the four door hinge nuts. It's very easy and a genius invention.
This is easy to install and able to withstand up to 120kg of weight.
5. 13 inch antenna
you may notice that the jeep stock antenna is somewhat long and not much helpful when doing off-roading. It can easily hang up with lower branches when off roading. Some drivers found it annoying to drive with a long antenna moving side to side on a side of the hood.
13 inch antenna
If you have some problems with your long stock antenna 13inch antenna may solve your problems. It's easy to install and works great with radio channels. I suggest Rydonair antenna. This is very easy to fit and add a good look to your jeep.
But keep in mind when the antenna gets shortened the capabilities of grabbing signals may reduce. But compared to other 13 inch antenna brands Rydonair works better for most of the users. It had perfect reception among shorter antennas.
So if you are serious about AM/FM listening and you are living in a rural area that needs a strong antenna, it's best to check before buying whether this will work for you or not in your area. Normally most of the users found this antenna better than stock antenna regarding reception.
6. Rockville slim powered sub-woofer
If you are a guy who likes some bass under the seat while riding, this is for you. Most of the users try to manage the space of a jeep when it comes to an adventure journey.
There are a lot of things to carry, so it's not possible to give a huge space for a huge sub-woofer. So this is the solution for you.
Rockville slim sub-woofer
I chose the 
Rockville slim sub-woofer
because it's relatively cheap, easy to install and gives a good bass filling with the factory speakers.
The most important advantage is it fits under your seat. It's slim, but gives quality sound. so I think it may be suitable for a person who thinks about space and needs a good bass for the next road trip.
7.Wiper blades
I wish I could put this top on the list. Wipers are an essential component in any vehicle for a safe journey. There are no doubts about that. If you ever drive your vehicle in heavy rain you may have the experience of the importance of a good wiper blade set.
This demand for a good wiper blade increases when you get into off-roading. Off roading wiper blades have to deal with a lot of mud and debris. Without a good wiper blade set that can handle those mud and debris off roading will be a very annoying purpose.
Scrubblade wiper blades
There are so many best wiper blades on the market regarding different purposes for different weather conditions. I found that 
Scrubblade
works for many users. It has an improved blade that can handle many abusions.
But do your research and try to find a good wiper blade set for your needs. for a jeep I suggest wiper blades should be able to handle not only water but also mud and debris because when off-roading, your wiper blades have to deal with them.
8.LED headlights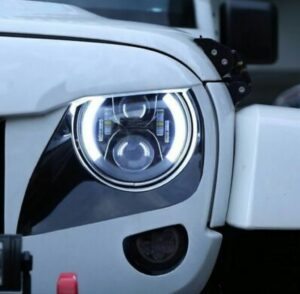 AAIWA jk LED headlamps
This is also important as much as wipers. Importance of a good wiper set will never be understood until caught into a heavy rain and the importance of a good headlamp will never be understood until you need to drive at night.
SUNPIE LED jeep headlamps ( pc:sunpie.co )
Normally jeep stock lamps are not the best headlamps for a night trip. I suggest you upgrade your stock headlamps with a set of LED headlamps.
It will increase your night visibility while adding a cool look to your jeep. You can find a best deal for less than 100 bucks. Do some research to find a best set for you. Sunpie and AAIWA are my suggestions to start your research!!
9. Jk gladiator grill
For those who like to give some aggressive look to your jeep jk, this is a great step. I know some people like the standard jeep grill design. Yah I respect your idea if you are one of them.
But actually I personally like the angry bird look that gives to the jeep by this grill. I know there are many users who like this look. You can find this grill for about 100 bucks.
Some argue about a restriction of air passages by this grill. But users don't complain about such a thing. There is enough space for air to travel through in this grill. So this will be a great and cheap mod for your jk.
Jeep jk grill inserts
In a jeep jk, there are huge spaces among the grills. We can even put our hands through a grill and touch the grill. Yes it's better for travel air through the radiator. But with that much of huge space there is a huge chance of damaging your radiator with different things that can travel through that space.
There's plenty of room to introduce a branch or something to the radiator through that grill when off roading. Not even in off-roading, there is a lot of debris that can hit the radiator on highways.
That's why these grill inserts come handy. They are very cheap. You can buy them for a few bucks and install them easily. But they will protect your radiator.
Jeep jk grill mesh
The LED light bar will be a cool upgrade for your jeep. A 50 inch light bar can fit above your windshield and it will give visibility like day time at night off-roading. Even without headlights you can drive your jeep with these LED bars.
But you have to search about the legal condition on using these LED bars in your country. There are some restrictions on using in some areas. If legal conditions are ok you can upgrade your jeep with LED bar for less than 100 bucks.
You can use them for off-roading, camping purposes and many more night adventures. Start your research if you like them with OEDRO LED Bars.
12. Mirror when doors off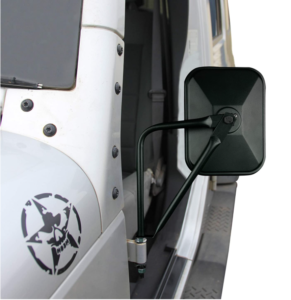 Jeep door off mirrors
This is also a very useful thing. Personally I also had the problem of driving without doors in my jeep, because mirrors are also removed with doors. Without side mirrors we can drive on roads due to the traffic rules and also it's dangerous, not being able to see what's behind our vehicle when driving on roads.
Because of that I did some research and found out about these mirrors. They can mount easily to the jeep through the remaining door brackets. It's cool and just a 1 minute installation process.
Now there are a lot of manufacturers for door off mirrors. I used kikbax that is sold by kickbaxoffroad.com. but it may bit expensive than $100. There are many ,good door off mirrors sold in amazon that can buy less than $100.
13. Cowl guards
Jeep cowl guards
Cowl guards are useful for protecting your paint from scratches and other damages that can cause by hitting your door mirrors. This can happen usually when you are trying to remove your doors. When the door straps are removed and suddenly wind grabs your doors, door mirrors can hit on the cowl area.
This can happen even without wind, if you parked your jeep in an inclined area. If your jeep has previous dimples occurring in the cowl area those things also can cover with these cowl guards.
Finally cowl guards can add a cool looking to your jeeps. So most jeep owners add this to their jeeps. It's cheap but useful. I think I don't need to suggest a brand. You can find a good set for your budget easily.
14. Sunshades for top off jeeps
Sunshades for top off jeeps
This is not a modification but I thought this may be helpful for your next outdoor adventure with your jeep.
As a jeep owner you have the valuable chance to drive with your top off when you need. Actually it's a cool experience when the wind goes through our hair when riding in nice weather.
But if the sun rays hit you heavily on a day time it's somewhat hard to bear without the top. So sunshades are the cheap and best solution for that.
You can buy a sun shade for a few bucks. It's easy to install when you need and easy to remove and store when you don't need.
15. Fire extinguisher and holder
Fire extinguisher and holder
Check Price of Holder on Amazon
Fire extinguisher is an invaluable piece of equipment that must be kept on your jeep. If you are doing off-roading it's a must. A fire can happen easily with extreme driving conditions. So a fire extinguisher and a holder may save your or your fellow off roader s life or property someday.
16. Rear tail led lights
JEEP jk LED tail lights
This is another cool mod that can do to your jeep jk. jk stock tail lights have a boring look compared to jl. new jl has a somewhat nice looking tail lights.
JEEP jk LED tail lights
But don't worry jk users!! Now there are tones of LED tail lights with cool designs for less than 100 bucks. There are plenty of sellers on amazon who sells tons of different designs.
If you are willing to upgrade your stock tail lights for LED tail lights, you have to do some homework to find the best set for your budget!!
17. Trunk mounted table
Jeep tail gate mounted table
Campers, off roaders and any one who likes to go for an outdoor picnic, a portable table will be very much useful. Now you can attach a cool foldable table to your rear door of the jeep from inside.
Whenever you want the table you can open the trunk door and unfold this table. It's an easy and space saving gadget. You don't have to remove it. You can keep it there forever.
18. Remote control exhaust cut out kit
Jeep remote control exhuast cut out kit
This is awesome. I know some jeep users like to improve the exhaust sound of the jeep. Most of the time everyone is looking for a full exhaust replacement. But it's a very expensive and time consuming process.
So if you need a monstrous sound when you hit the gas pedal and when you need it this is the option for you. Now you can mount an electronic remote control exhaust cut out for your jeep. Then you can control your jeeps exhaust sound normal to a monstrous sound by sitting on your seat with the remote controller!!
You can watch below video to understand how it's done and how it works.
Jeep back up camera
If your jk don't have a backup camera, it's a valuable thing to invest a few bucks. Jeeps have many blind spots due to their structure. The rear of your jeep is a major blind spot. When trying to drive the jeep in a crowded place, you may have experienced the difficulty.
So I suggest you consider buying a backup camera for your jeep jk. Quadratec has a camera that fits into the spare wheel.
It integrates with a reverse light set and a third brake light. But it is somewhat expensive. You can find a good backup camera for a few bucks with doing some googling.
20. Rubicon decals
Jeep Rubicon decals
As my final mod suggestion I thought about a new hood decal. You can consider buying a new hood decal for your jk. There are cool designs of decals for a few bucks. New Rubicon decal or a Wrangler decal will add your jeep a cool look.
So far I have given you 20 modification ideas for your jk. As I told at the beginning most of them are useful in different ways and makes your life easy. I hope you enjoyed this article.
If you like to know what are the cool things you can do to increase storage space of your wrangler, you can read about cool storage mods for your wrangler guide by clicking here.
If you find this article helpful, share this with your jk friends. It's easy. You just have to hit a share button below.
( Featured Image Credit : pinterest)