Are you dreaming about a road trip with your loved ones? Then exactly you need a good plan for a headache free and fun road trip.
First you should have a plan on your route of journey and what are the joyful things you are going to do on this trip.
Next soo important point is what accessories you are going to carry.
According to your road trip, accessories that need for you will depend.
As examples it's useful to have a USB car charger, passenger UV shades, compressible pillows, tailgate table with cutting board, draw back shelves, portable refrigerator, camp kitchen and a serpentine belt for an engine repair in an emergency.
In this guide I'll show you many cool accessories that are useful for a road trip with your jeep wrangler. You can add them to your checklist according to your needs.
I have a huge list of accessories. So I'll categorize them according to situations when you need them. It will be easy for you.



1. Accessories useful when you drive.

First I'll show you cool accessories that can make your long drive more easy. As an advice I'd tell you that don't try to add so many fancy items that distract your eyes from the road when driving. Only keep the most necessary things in your driving area.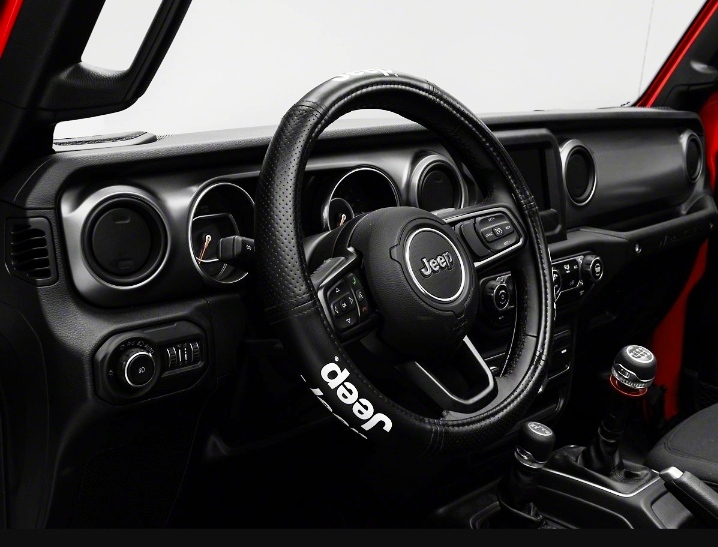 Check Price on Amazon

As the start of my list I'd like to tell you a simple but very useful accessory, it's your steering wheel skin. This may seem simple, but when you drive your jeep for 5 or 6 hours, you should have something comfortable to grab on the steering wheel.
If your hands get wet easily by sweating, you have to consider choosing a wheel skin that gives good grip even if your hands are wet. I know there are some people that have this problem. They can use special gloves when driving.
If you don't have good steering wheel skin for a long ride, it's time to consider a change before your road trip. You can find many good brands out there by a little research.
I suggest you check Elite series speed grip steering wheel cover. It has a jeep logo on its surface. This cover gives a good look to your steering wheel while giving you a good grip and good feeling to your hand on the long run.

Check Price on Amazon
After your hands next we should consider the comfort of your feet in this long ride. If you are not comfortable with your existing jeep pedals, consider changing them or putting a new cover over the pedals.
If you have a somewhat old wrangler, most of the time the pedal surface may worn out.
Worn out pedals can cause slipping of your foot over the pedal surface when you pedaling.
If this happens when applying brakes, that's not a simple case as changing your worn out brake pedals. So check your pedals before your long trip and make sure that they are in good condition for a thousands miles tour.
If you like, You can put pedal covers to the existing pedals for few bucks.

Foot rest pedal

Check Price on Amazon
If your jeep doesn't have a foot rest for your left foot, you can mount one for a few bucks. You will be thankful for that few bucks, when you drive a few hours on a highway. It will ease your leg fatigue.

Jk door pocket storage box.
Check Price on Amazon
This is a great upgrade you can do to your jk. You know that, your jk door side pocket net is not much help for high weights. So this is the best solution for that. There's a nice water bottle holder separately that is easily accessible on your long road trip.
According to manufacturer's this doesn't need any drilling. But I found that this is easily taken off if you do not mount this with screws.
You can use ½" screws and small washers to fit this. Then it will never knock off and fits like a normal plastic door pocket.

Grab handle passenger storage bags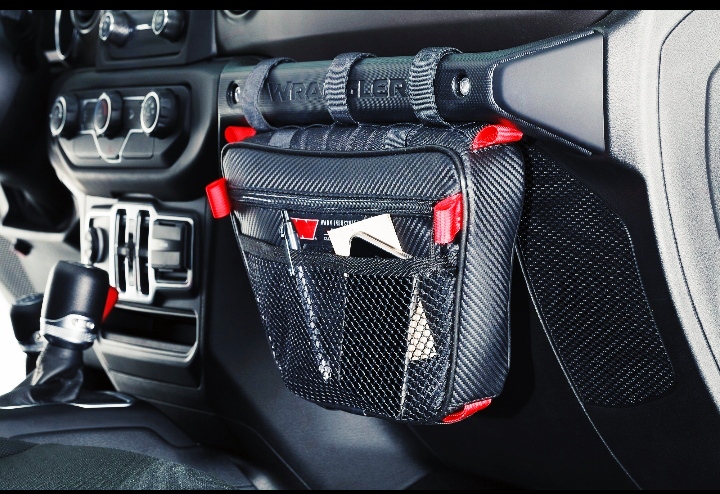 Check Price on Amazon
This will be useful to store cookies, chocolates and things you need to access frequently and easily when driving.
For a long road trip, they give good support to organize things without scattering your driving area while accessing them easily.

Windshield rain water repellent
Check Price on Amazon
This is not an accessory for your road trip and you don't have to bring them with you. But, I thought this will be helpful for your long drive. Clean your windshield with a water repellent before your road trip.
They will repel water out of your windshield easily. You don't have to use your wiper every time when water drops are scattered on your windshield. There are few good brands out there. I suggest you try out Rain -x glass cleaner and rain repellent.
When you use it once on your windshield, that will last for about 3 months. So you don't have to bring this bottle with you on the road trip.
Just clean your windshield once with them before your road trip and you are good to go.

Phone mount and Go Pro camera mount
Check Price on Amazon
Phone mount is useful for every time, not only for a long trip. With a phone mount on the dashboard, it's easy to check GPS navigation from your phone , text someone or take a call without missing.
Due to the noise of tires or wind you may not hear your phone ring or vibrate, if it is placed somewhere you can't easily see when driving.
I suggest you to buy a phone mount if you don't have one before your road trip. It will make your ride easy.
There are phone mounts with go pro camera mounts. So you can buy that kind of phone mount to get two uses from one equipment.
You can record your road trip easily with this specially designed cam and phone mount for wrangler jk. Mount shown on above image is from bullet proof mounting solutions.
If you already have a phone mount and don't have a go pro camera mount you can buy a camera mount separately for a few bucks. They can attach to your windshield or dashboard easily.

USB front and rear charger
Check Price on Amazon

You will be thankful, if you buy this. We all know our phone batteries do not help us much with their battery life. You and your passengers surely need to charge their phones or tabs frequently during a few hours road trip. So this is the solution for that.
You can buy a 5 USB front and rear car USB charger just for a few bucks. You just have to connect it to the cigarette lighter port of your jeep.
Then you get 3 USB ports from there to front and 2 USB ports to the rear passenger.

UV passengers windows shades
Check Price on Amazon
Check whether this fits with your specific wrangler model before buying.
Apart from above things, your passengers may need UV shades on a road trip. Normally on a highway, your passengers may have to fight with UV rays coming through your windows. It's not an easy task to bear it for a few hours on a road trip.
So window shades are the easiest and cheapest solution for that problem. You can buy them for a few bucks and attach them easily when you need.
Those are the main accessories for a driver that you have to consider for a road trip. As an extra thing you have to consider about your seat comfort. If they are not very comfortable for you, then you have to think of a new seat or a good seat cover.
If you interest click here to read my article on how to make your jeep more comfortable.
There I had talked broadly on seats, suspensions and many more. As a suggestion, you can check for PRP daily driver seats if you think you need to change your seats.

2. Accessories useful for preparing a meal
Now the most fun part begins.It's not possible to eat ready made foods or street food all the time on your jeep road trip. You can find a cool spot between your road trip and prepare your own good meal easily.
I said that because some people travel during the day time and stop in a hotel or somewhere at night. So they may miss the chance of cooking a meal. So let's see what are the accessories you may need to prepare a meal on your jeep road trip.

Check Price on Amazon

COLEMAN 60QT XTREME WHEELED COOLER I add this top of my check list because, even if you do not prepare a meal this is very useful. You can buy a portable freezer, if you are serious about road tripping.
But it's expensive. So this is the cheapest option for you to get the job done without breaking the bank.
You can put some Ice and store your food items, bear cans easily in this box. There are good coolers like COLEMAN 60QT XTREME WHEELED COOLER that can keep cool up to 5 days.
But these maximum days can be varied according to many reasons. If you need to keep your foods cool for about 5 days, it's better to buy a portable freezer rather than a cooler.
Above COLEMAN 60QT XTREME WHEELED COOLER can be buy for $45 and upwards. Actually for that amount of $$ you can't expect perfect cooling for few days.
They will do the job for 1 or 2 days perfectly. With small research you can find a good cool box that's suitable for your needs.

Check Price on Amazon
If you are serious about road tripping/ over-landing and your budget is OK, you can look for a portable freezer. I wrote a detailed guide on portable freezers suitable for jeep wranglers including all the best freezers you can buy, their capacities and prices.
If you wish to buy a portable freezer for your jeep wrangler, I'm pretty sure this guide has all the things you should know before your purchase.
I had done all the research work for you and wrote that article and included images of how those freezers fit into a cargo area of a jeep wrangler. You can read that article by clicking here.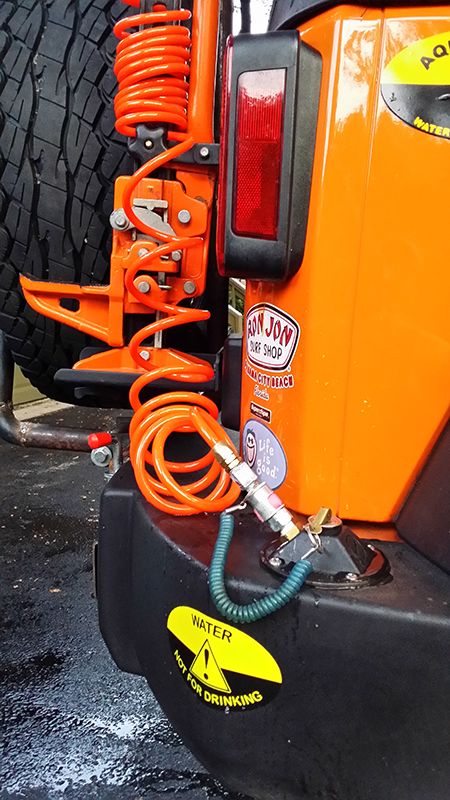 This is a cool mod you can do to your jeep before your road trip. Basically your stock rear bumper can store up to 7 or 8 gallons of water in it.
You can install a kit to store and take out pressurized water from it. It will be done by using a few horses, drilling and a wiring. You can use that water for washing your pans, cooking utensils and basically everything. But it's not advised for drinking.
That's very useful because you don't have to spend extra space in your jeep for this amount of water and on the other hand you get pressurized water!!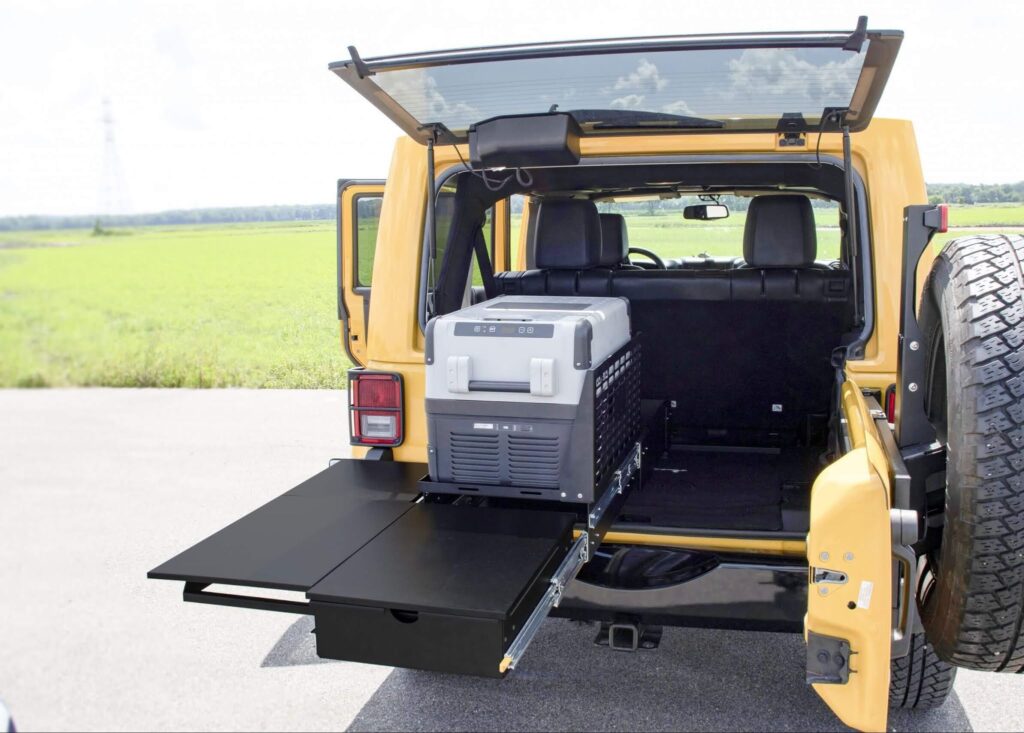 Jeeps can customize any way as you need. so you have to get the benefit from that.
You can set up a trail kitchen in your jeep if you are serious about preparing your own meals for your road trip.
You have to do small work to fit this type of Kitchen. But it will give you the ability to prepare your meals easily on road or trails. They will fit into the jeep. So you don't need to fit them outside on the ground like kitchen boxes I present you next.
There are different types of trail kitchens out there in different sizes and different options. MORryde and Trail-kitchen have cool kitchen options starting from about $620 and upwords.


Check Price on Amazon

This is not much space consuming and you don't have to do any upgrades to your jeep.
But when unfold and set up everything outside, it will give you a whole lot of space to prepare and serve your meal easily.
There you have space to store your utensils, stove and almost every equipment you need to prepare your meal at a road trip.
Check Price on Amazon
Even if you finds a trail kitchen is not much necessary for your road trip, rear trunk organizers will be very useful for everyone.
Because space management is a crucial part in a road trip. You have to pack a lot of luggages in a limited space.
Next thing is you should have the feasibility to access your luggages easily without messing things up during the road trip.
That's why I suggest you to think about getting a trunk organizer.
This is just a simpler form of trunk organizers. but it's easy to install and do a pretty good job.
It will divide your cargo area in to two parts and gives you the ability to get the most out from your cargo space.

Check Price on Amazon
Make sure that specific table fits with your wrangler model year.

This is a simple accessory you can fit it to your rear tailgate. But this also comes handy most of the time when you need to put your food items or your laptops, beer cans like stuffs in between your road trip.
This can fold after using. So this will create an extra space easily without consuming your jeeps space.

3. Accessories useful at night

In a jeep road trip you have the option to spend the night in a roadside hotel or stay in your jeep.
You just can't spend a night in the jeep without necessary accessories. You have a few options for that.
You can fit a roof top tent to your jeep. This is the easiest option if you can afford it.
Next option is bringing a foldable tent. It's a somewhat cheaper option than fitting a roof top tent.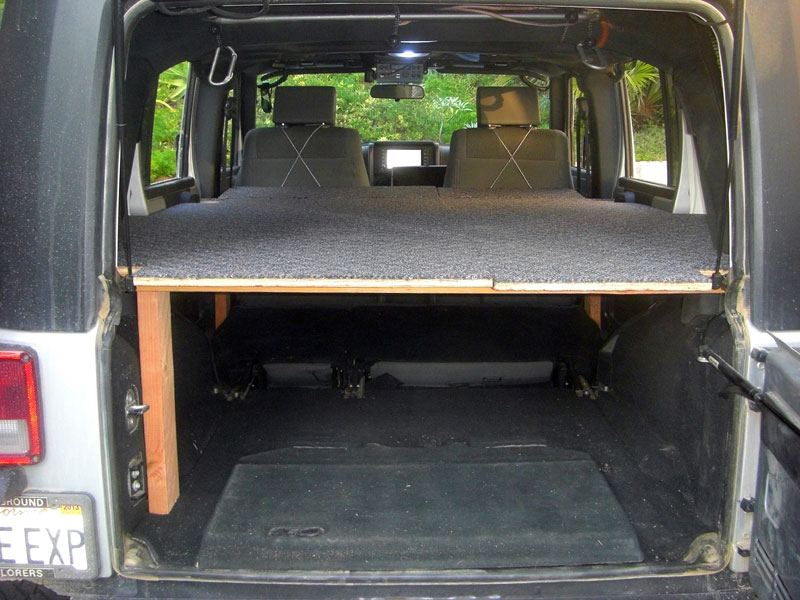 Next option is customizing your jeep interior with removing rear seats. But this option is mostly suitable for sleeping one or two persons.
You can read more about jeep roof top tents by clicking here. I wrote a full guide with prices of different jeep roof top tent options.

Check Price on Amazon
Inflatable travel pillows may be useful for your passengers for a quick nap on the road. If your kids are also with you on your road trip this will be surely useful.
You can buy an inflatable travel pillow for less than $10. The advantage of an inflatable one is you can deflate it and pack it in a bag without worrying about the space.

Check Price on Amazon
This is also a cool product if you are with your kids on your road trip. You can buy an inflatable camping mattress that fits with your jeep backseat area for round $50 – $60.
It can easily turn your backseat into a comfortable bed for your kids in no time.
If you plan to spent night in your jeep can buy a larger size inflatable mattress for you to sleep in your jeep.
For that you can get an inflatable mattress like above mentioned one and easily create a nice sleeping area easily without breaking the bank.

LED Lamps , solar power LED lamps
Check Price on Amazon
Lights are an important part at night in any kind of trip. If you prepare your dinner or stay in the jeep/ in your tent you can understand how important the lights are.
There are many options you can go for lighting up your jeep. You can buy solar powered LED lanterns for about $25 and upwords.
You can charge them without your jeep's battery from solar power and use them at night easily. Above image shows a solar power LED camping light that can inflate when you use it.
Check Price on Amazon

Next option is attaching an LED light set like in the above picture. This can be controlled by a remote. This can also be bought for about $70.
It mounted to the rear door and powered from the jeep battery. It has a good brightness and more than enough for preparing dinner and everything behind your jeep.

4. Accessories useful in an emergency

Unexpected things can happen at any time. That's why preparation is most important. It's better to hit the road with some preparation for an emergency situation also.
According to your road trip you have to think about accessories useful in an emergency.
But a first aid kit is a must have in your jeep. You can prepare your own first aid kit or else you can buy one for a few bucks.
But you should keep in mind to check the expiring dates of things in that kit before your road trip. They have expiring dates. So you can't keep them forever even if you did not use them earlier.
I found a good article on preparing a off road first aid kit in trail4runner.com. If you are interested you can read about how to prepare your own first aid kit from here. Below You can find a best survival and first aid kit suitable for outdoor purposes.