It's an intimidating task to store foods in cool boxes for a few days or a few weeks journey. As a solution for that portable freezers are introduced. There are a lot of freezer brands, models for different prices and different capacities with different extra features. so it's hard to decide what may be suitable for your needs.
That's why I decided to write this guide by doing all the research and hard work for you. According to my research I found that,
Dometic CFX 3 40W fridge
ARB 50QT  
SNOMASTER CL56D fridge
ENGEL MT45 PLATINUM COMBI fridge 
ARB ZERO 76L Dual zone fridge freezers
are the 5 best portable freezers for a jeep wrangler.
When buying a portable freezer, there are three ranges of capacities.
Small – 30 to 40 liters
Medium – 50 – 65 liters
Large – 70 liters and more
According to your needs the size differs. Large size portable freezer can take a lot of space from your cargo space. So they can fit best with a travel trailer when overlanding, because you have to bring a lot of things in a limited space.
Normally most of the jeepers tend to buy a medium or small size freezer suitable for their needs. So I'll give a review of my top picks for your jeep wrangler, from the above huge list of portable freezers. I'll try to add a picture of how the relevant freezer fits into the wrangler's cargo area.
Here I had added details of two or three capacities from a single model in some freezers for your reference. Because those are the most preferable sizes for a jeep wrangler.
Dometic CFX3 35W fridge & CFX 40W
CFX3-35W on left and CFX-40W on right
Dometic is one of main brands in portable freezer manufacturing. Dometic CFX series is my first pick in the list. CFX series has a range of models from 28 to 100 according to capacity. For a wrangler CFX3 35W and CFX 40W are popular models among jeepers.
Both of the above models have the same footprint. Only difference is in the height. let's look at their dimension.
                   35W                      |      40W
Capacity:      36L                   |       41L
External
(W×H×D)
398x407x694
 | 
398x461x694 mm
(mm)

Net weight
        16.9kg                |       18.5 kg
Specs
They have two compartments inside. They got a larger and deeper compartment that acts as the main compartment. There's a bit smaller compartment at front that acts as a cooler. It's one or two degrees warmer than the normal compartment.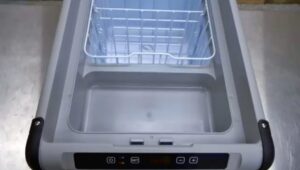 Small compartment is placed front of the freezer
Power
CFX range is dual power capable. That means you get a 12V DC power port and a standard 110V AC port that can directly connect to the 110V outlet in our house.
So you can plug this in to your home AC power outlet and bring this to necessary temperature before your next trip and then connect with the jeeps 12V port after putting this inside the jeep. In that way you can save your jeep's battery juice if you want.
You get a USB port in front of the freezer. You can plug a power cable and charge your phones or small electronic devices easily when you are sitting in a campsite or around the tail gate of your wrangler.
Design
Freezer is designed tough and rugged with reinforced plastics around the corners.It will save the freezers from throwing in and out and doing overlandings.
These have two strong spring loaded handles to bring the freezer easily. Those handles can be used to tie down the cooler when storing in the jeep cargo area.
There is a main control panel at the front of the freezer which allows you to control all the features of it.
There's a power button which can long press to turn on the device and long press to turn off.
There's amber LED which turns on will indicate that the freezer reached to operating temperature and the compressor is turned off.
If the LED is green that means the compressor is running. There are buttons to set the temperature.This has -8°F to 50°F temperature range.
This freezer has a voltage sensitivity that can monitor our jeeps battery voltage and On or Off the compressor according to the battery drain. So we don't experience a dead battery because of this freezer middle of a trail.
There are voltage sensitivity settings you can choose between according to your trip.
Even the compressor turned off dometic CFX has good insulation in it. So the temperature in it will stay for a long period of time without harming your foods inside the freezer.
Dometic CFX series is wi-fi enabled. That means we can control the freezer remotely with the dometic app installed in our smart phone. With this app we can control all the settings of the freezer from the driver seat or somewhere at the camp.
Cons
Actually nothing to mention in this section about dometic CFX series. You get quality and durable equipment for your $$$.
Dometic CFX3 45W fridge
Capacity : 46L
Dimensions (mm)(l×w×h): 694×398×476
Weight: 18.7kg
This also has the same options like CFX 3 40W freezer. But this has a 46L of capacity. If you want more capacity you can go for this rather than a 35W/40W.
You can put a 1.5L soda bottle vertically in the deep compartment and close the lid without any problem. I'm just told to get an idea of how deep the compartment is.
ARB 50QT & 37QT Fridge-Freezer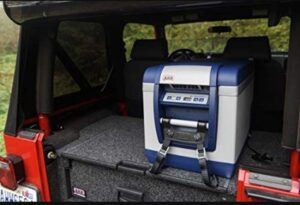 ARB 37QT Freezer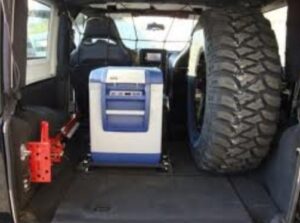 ARB 50QT Freezer
             (Images credits: wrangler forum.)
ARB is also one of the most popular and trusted freezer brands among jeepers.
ARB also has different models and capacities according to users' needs. Normally ARB 37QT and 50QT are the most popular models among jeep owners.
50QT has enough storage for a jeep tour for a family of four. 37QT also has a good storage for one or 2 persons. But these things depend on your needs. I'm just giving you an idea here.
Let's look at their dimensions
                   37QT freezer                            |    50QT freezer

Capacity:   35 Liter (50 12oz cans)          |    47 Liter (72 12oz cans)

Fruit & Dairy
Compartment:  5.95″ x 11.22″ x 4.96″     |   5.95″ x 11.22″ x 8.11″

Main
Compartment: 13.27″ x 11.22″ x 12.64″   | 13.27″ x 11.22″ x 15.79″

External
Dimensions: 27.75″ x 14.96″ x 16.85″        | 27.75″ x 14.96″ x 20″

Weight:            45.6 lbs                                  |  49.6 lbs

Cooling Range: 50°F to 0°F                          |  50°F to 0°F
Specs
This has an easy locking lid. When we open it, both of these freezers have 2 compartments.one is deeper than the other.
If you want you can easily remove the lid from the hinges.
I noticed that the smaller compartment also has a good space and enough depth than in dometic CFX 3 freezers.
Power
This can power up with 12V DC as well as 120V AC. There are 2 power inlet ports for that.
Freezer has smart power controlling abilities. That means it can automatically reduce the temperature or completely turn off according to the voltage of the battery without killing the battery.
Design
This freezer doesn't have any metals outside in it's design. That means there are no chances to get corroded by how hard you used it on trails for a long time.
This has 2 built in strong handles to carry the freezer easily.
Front of the freezer has the control panel.from there you can set the cooling temperatures, what battery voltage you want to shut down the freezer and so on.
Cons
As a con we see that the temperature inside the freezer is not uniform. Bottom and back get cooled more than the upper area.
We can see about 5 to 7 degrees of temperature difference among those areas.Because of that we have to store the foods that need more cool to the bottom.
Next thing is the Insulation of the freezer is somewhat low. So that temperatures showing on the control panel may be a bit different with the exact temperatures inside.
We can calibrate the control panel to match those temperatures and cover the freezer with an insulating cover to reduce the energy wastage through the body.
SNOMASTER 42L & 56L dual zone Fridge-Freezer
My next pick is snomaster. Here also I pick 2 best models to compensate for your needs. Because there are readers with different needs. So it's not possible to select just one model and present it.
Snomaster 56D Fridge-Freezer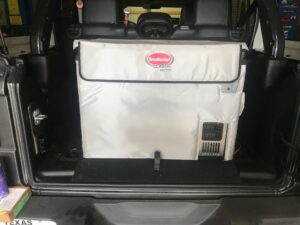 Snomaster 56D freezer in jeep wrangler
(Credit:wranglerforum)
Capacity :  26 and 30 Liters (2 Compartments)
External diemensions : 715 x 455 x 520 mm
Insulation : 
   60 mm
This is a true dual zone freezer with a huge capacity.
Here dual zone means there are two larger and small separate compartments with two doors.
You can use any one of them as the freezer and other as the cooler or both of them as the freezer or cooler. That's very flexible for users' needs as a portable freezer.
Power
Both of these models have 12V DC and AC power inlets. These freezers are also very power efficient and turn off itself when battery voltage runs down.
Design
Snomaster have a good stainless steel built quality with spring loaded handles and latches.
Doors are removable.
The small compartment has a good depth. It comes with two baskets inside. So things can be arranged easily inside.
Nice thick heavy insulation can be found all over the fridge.
Large compartment have a one large removable basket with removable partition.
There's an LED display and control panel on one side.
Have remote control option.
Snomaster 42L Traveller fridge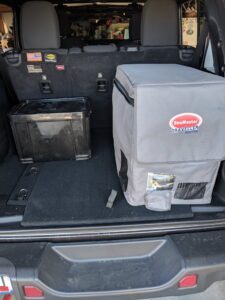 Snomaster 42L freezer in jeep wrangler
(Credit: wranglerforum)
Outside dimensions (including handles and locks) (L/W/H): 680 x 364 x 515 mm
Weight:
 25 kg
Insulation: 55 mm
This doesn't have two separate doors.one door and two compartments inside the freezer.
In 56L the LCD display can be removed and fixed somewhere around.But in the 42L model the LCD is in a fixed location at one side of the freezer.
Cons
As a little thing we noticed that the door hinges are designed to remove those doors easily on both of the above freezers.
Because of that the door can easily get popping out accidently from the hinge pin when trying to access the inside of the freezer.
Weight is somewhat higher. It can affect the carrying in and out.
The price tag is also a bit huge!!
Warranty.
Snomaster Gives you a 5 year warranty for their compressors.
ENGEL MT45 40Litre platinum combi Fridge-Freezer
Engel MT-45 freezer in jeep wrangler
Capacity:
 40L
Ext. Dimensions (mm) (without handle): 647x508x364
Int. dimensions (mm): 380x370x270
Voltage (V) 12/24/230V
Material: Sheet steel enamelled
Colour: Silver metallic
Energy Class: A+
Weight: 24kg
Temperature range: +10ºC up to -18ºC
ENGEL is a well known and specialized manufacturer of portable freezers.
For a jeep owner ENGEL MT45 40l COMBI freezer is a good choice from their freezer series.
Here the COMBI means it can be used as a fridge and a freezer at the same. It doesn't have two doors.
But two compartments can completely divide from inside with partitioning. After that you can set the temperature of those compartments separately and use it as a fridge and a freezer.
There's only a removable insulation board between two compartments. But still it can keep the different temperatures of the two compartments perfectly. That's a cool thing in ENGEL MT45.
With this partitioning board you lose 1L from the total 40L capacity. So you can remove it and use 40L capacity as the refrigerator. That's option 1.
Option 2: Freezer 16 litres/ fridge 23 litres (total 39litres with the divider)
Option 3: Freezer 22 litres/ fridge 17 litre (total 39 litres with divider) recheck capacities
This has a very durable sheet steel enamelled body. Very low power draw. Maximum 2.5 amps.
Cons.
Apart from the high price tag, there are no other cons to mention!!
Warranty
Engel products have a 5 year manufacturer warranty.

ARB ZERO 73QT DUAL ZONE Fridge.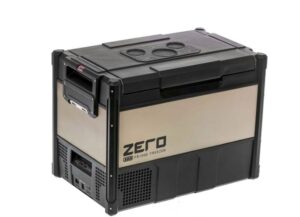 ARB ZERO 73QT Portable freezer
ARB ZERO range of fridge freezers introduced in 2019. This fridge freezer comes with tons of awesome functions and features.
ZERO line up includes 4 different sizes. 47QT (44L) , 63QT (60L) , 73QT (69L) and large 101QT (96L).
The most important feature of this Zero range is adding true dual zone feature to an ARB freezer. This feature is only available in Zero 73QT and 101QT freezers.

This 73QT one is somewhat large and takes quiet space from the back of your wrangler. 
Details of 73QT
Capacity: 69L
External Dimensions (LxWxH)(mm): 754 x 470 x 577
Internal Dimensions (LxWxH)(mm)
Upper Compartment: 381x325x264
Lower Compartment: 203x325x180
Rear Zone: 170x325x444
Weight: 30.9kg
Cooling Capacity: -7.6°F to +50°F
Design
There you get a one large lid in 73QT and below models.(101QT has two separate doors).When it opens there are two compartments.
One is large and the other one is small.There's seperate lid inside, for the small compartment.
There's plenty of space inside this 73QT freezer. You get a multi-tiered section to organize the things inside the fridge perfectly. There's a LED light inside to illuminate things at night.
You can easily remove the board between two compartments and maintain an equal temperature throughout the unit.
Everything is designed with removable metal baskets inside. So it's very easy to take them off the freezer.
Another important feature in this ZERO is reversible lid. You can easily swap the door off and fit to the other side of the freezer. So you can customize this freezer easily wherever you are.
When can set any one of them as the freezer and other as the fridge or both compartments as a freezer or fridge from the control panel.
Front and back have two handles embedded in the body of the freezer. Below them it has freezer tie down points.
In the control panel you get a power button at the left side then a boost button. With this boost button, the compressor can speed up and increase the cooling speed.
Then you get two LED displays for the freezer and the fridge and temperature controlling buttons.
Additional features
You can control this fridge through your smartphone via bluetooth. ARB zero has an app for that. All the settings can change through that app remotely through bluetooth technology.
Power
The control panel is taken down to a lower position in ARB zero range. It is designed with an easy to use way.
There you get a 110 – 240V AC power inlet, DC 12V/24V port and a USB port.
This freezer has a second 12V/24V DC inlet port in the back of the freezer.
This freezer also has the smart power controlling feature. It can monitor the jeep's battery voltage and automatically cut off the power from the battery when battery voltage drops to a certain level.
Cons.
The control panel is placed nearly at ground level. So it's hard to access it when the freezer is placed on the ground level in a campsite or in the garage. (But with the mobile app you can easily control the freezer remotely)
Lid doesn't have a strut to hold it opening.
Warranty

3 years warranty from the date of purchase
Tips for choosing a suitable freezer for you.
So far I gave you all the models and average prices of main branded freezer models and picked best freezers for a jeep wrangler from them and gave a detailed review of them for you.
But still you may have remained problems of what are the things you should consider when choosing a portable freezer for your jeep.
First thing is your budget!!
Apart from everything you have to think about how much can I spend for a portable freezer. Everything will depend on that.
If you have a limited budget then look for the freezer that goes under that budget on the above list.
In my table I put the freezers in ascending order according to their capacity. So you can get an idea of average prices of different freezer models according to the capacity.
You may be able to find another freezer brand with a bit lower price apart from the above list. But you can't assure their quality.
You could end up losing your investment in a few months. So my advice is it's better to buy a quality product that lasts long rather than spending money on a low quality product.
Capacity.
After the budget the next main thing is the capacity of the freezer. This capacity will depend on various things.
According to your journey
How many persons are with you in a journey
How long you stay out of the grid etc.

Think about those things first. Normally a 50L freezer is enough for a family of 4, for a long weekend road trip or overlanding.
But these things solely depend on how much amount of things you are going to store in it.
If you can go for a large freezer, things will be easier. If you have the ability to manage things properly, a mid range freezer is more than enough for a journey.
Normally Small range freezer like 45L will be suitable for a couple or a small family for a long weekend journey.
A 60L or more freezer will be enough for a family with 5 people for a long weekend journey.
As I said earlier these things will depend on your needs. I'm just telling these numbers to take an idea for you.
Jeep space.
This is also a very important factor. Even if you can buy a larger freezer, you have to think about the space remaining in the jeeps cargo area after the freezer is placed.
Normally you will remain enough space , after a mid range freezer like 50QT is placed in the cargo area.
But the 73QT freezer is going to get a huge amount of space from the jeeps back.It will be pretty hard to pack luggages of 4 people, after placing this kind of freezer in the cargo area.
That kind of freezer is best suited for you, if you have a jeep trailer. You can put that freezer in there.
so think about that before buying the freezer. I attached a few pictures of different freezers placed on jeep wranglers to take that idea on the space consumption.
Those are the extra things to consider when choosing a freezer for your wrangle. Apart from that warranty and specs are included into the reviews section.
If you find this article helpful share this with your friends. You just have to click a share button below.
Peace!!