As jeepers we all know that we have a limited space in our jeeps. This will mostly come into our minds, when we are planning an overlanding or a few days road trip with our family.
That's why I tried to find perfect ways of managing this limited space for our journey. I have done a lot of searches on improving wrangler storage space and found a lot of cool mods to do that.
I'm going to tell you everything I had found in my research.so without further ado let's get started.
When going to talk about storage mods there are a lot of things you can do to your wrangler. Even in such a limited space you can pack luggages of 5 people for a full time overlanding!!
Things you can do with a jeep is actually unlimited. We can modify and organize the passenger area, cargo area and roof top to pack everything we need for a journey. If it's a journey of a few weeks or few months we can add a trailer and get a lot more space. So let's see what are the mods we can do in that order.



Storage Mods For Passenger Area.

First you have to think about how many people travel with you in the jeep.
If you have 3, 4 or 5 people, mods in the passenger area will be reduced. But don't worry. It's not a problem at all.

Grab Handle Bags

Check Price on Amazon
We can start with this simple storage mod. We can avoid scattering things around the front area with this. Our sunglasses and things frequently used when driving can be put in this bag. We can easily access things inside this bag from the driver seat.

Vector jk E Dock Phone and Tab Mount
Price : from $184.99 upwords
This is a cool accessory you can fit to your jk dashboard without any permanent modifications.
This fits directly with existing mounting points and gives easy mounting points to cell phones, GPS, Tablets, CB, CB microphone, radar detectors, flash lights and many more.
The dash top cubby can also still be used with this. This gives you a good storage and organizing solutions for driving areas on a long tour.
(This only fits with 2011 – 2018 jk models. Not for 18,19 jl models)

Overhead cargo nets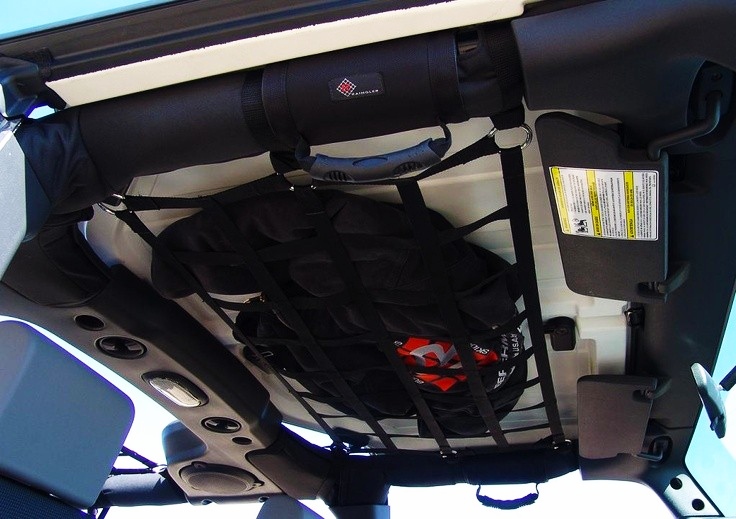 Check Price on Amazon
Easy access is very important for us on roads. We can install an Overhead cargo net under the hard top or soft top for a few bucks.
This is easy to install and easy to access. Can use with or without tops. There we can store our jackets or bags easily. It gives an extra storage space in no time.

Under Seat Lock Box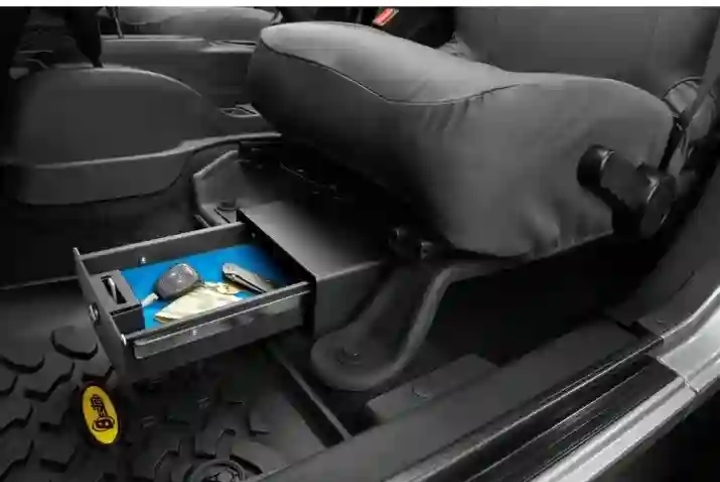 Check Price on Amazon

Underseat lock box is very useful for soft top/top off jeeps. We all know that soft tops are not so protective to keep valuable things like wallets and electronic devices inside when parking somewhere.
Under seat lock box is the solution for that. You can put your things inside and lock it.
Another advantage is we'll get extra safe and usable storage space easily under the seats for both soft top and hardtop jeeps.

Bestop jeep wrangler center console lock box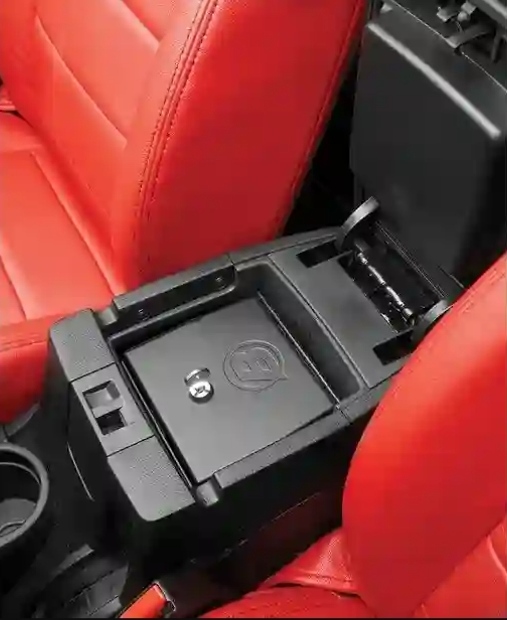 Check Price on Amazon
This is a lock box that mounts to your center console. If you need extra safety for your valuable things you can mount this easily to your center console without disconnecting factory usb openings.
(But this will only fit with 2007 – 2018 unlimited jk 4doors and 2007 – 2010 jk 2 doors only. Will not fit for 2011 – 2018 jk 2doors.)

Overland seat back molle panel, molle bags
Check Price on Amazon
We can get an extra use from the back panels of the front seats. You can easily attach a Seat back Molle Panel. On that Molle panel we can attach molle bags in any design to store stuff easily.
If you are an overlander this seat back storage is a must for you. Even the rear seat passengers can get use of it in different ways. In this panel there is an easily accessible separate pocket for flat items like tabs, phones etc.
You have to buy the molle bags separately according to your needs.

Detachable jk seat back trail bags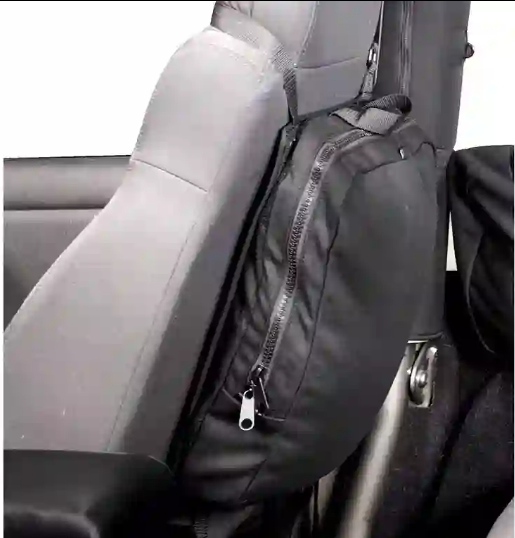 Check Price on Amazon

This is also the same as the above seat back organizers. But the difference is this can easily detach and carry like a bag on the trails or anywhere you need.
Easily fit to the back of your seat in the wrangler. It fits well and doesn't move at all when wheeling. Have oversized zippers. Great for keeping clothes, spare parts, recovery gears etc.

Smittybilt overhead console for jeep jk.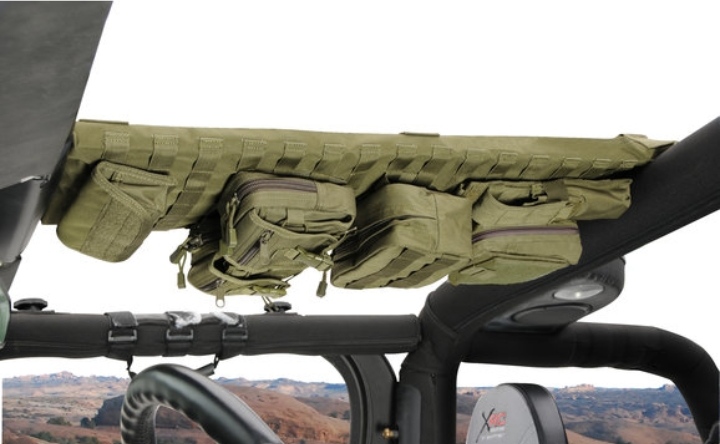 Check Price on Amazon

With this easy install overhead panel you get extra storage under the roof directly over the center console. With this you get 6 detachable bags to keep anything from spare parts to snack bags.
This metal panel fixed to the middle roll bar easily. Perfect mod that gives nice extra storage space that may waste over your head.
This fits with 2007 – 2018 jk.

Sunpie Roll Bar Storage bag cage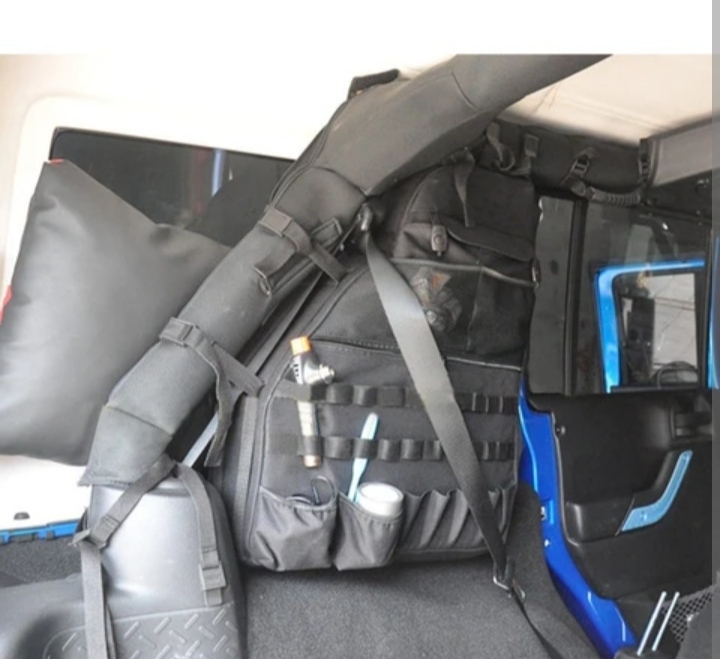 Check Price on Amazon
There are many storage options using jeep roll bars. For a 4 door wrangler jk you can attach a Roll bar storage bag cage.
Tool Kits, Driving license, Cosmetic Accessories, Keys, Sunglass, Pen, Notepads, Cellphone,MP3,Charges & Cables ,Earphones, Remote Control, SD Card, Power Bank, Wallets and More Useful tools can store and organize easily with this.

Rightline gear wrangler Roll bar storage bags
Check Price on Amazon
Rightline gear has a waterproof roll bar storage bag conveniently storing any type of stuff like first aid kits clothing, towels, recovery gears or roadside equipment.
This is cool because we can attach this to any diameter roll bar and feature quick release buckle straps.
These are UV protected and even the zippers are also waterproof. There are easy carry handles to easy carrying. Gives a good extra space with using roll bars of the wrangler.
Can buy and fit a few of them according to your needs.

Roll bar drink holders
Check Price on Amazon
This is best for the front or rear of the jeep. Especially for the kids, they can keep their bottles easily. Easily mountable to anywhere on the roll bar. Cheap and works handy because you don't want to roll the bottles all over the jeep floor on the trails.

Bestop RoughRider Black Diamond Jeep Under Seat Organizer

Under seat organizers fit under the driver's seat or wrangler unlimited rear seats. This is a 12 inches long x 10 inches wide x 6 inches high bag with two interior dividers to keep objects separate and secure.
There's zip closure and carry handle. Best for store camera equipment. Fits clean under the jeep seats.

Rugged Ridge Black Roll Bar Sunglass Holder
Check Price on Amazon
If you need a more lens secure arm reach holder for your sunglasses this is the best option. Rugged ridge has made this to attach easily to your sport bar using hook and loop fasteners and soft interior fabric to prevent scratching of lenses.
There's a inside zippered pouch to keep cell phones or other small equipment safe.

Plastic Door Pockets
Check Price on Amazon
There's a good usable storage space on doors of jeep wranglers. But the factory fitted door pockets are not much usable. We can't use it to organize things properly.
So we can upgrade it with plastic door pockets easily. There's a nice water bottle holder separately that is easily accessible.
According to manufacturer's this doesn't need any drilling.
But I found that this is easily taken off if you do not mount this with screws. So you can use ½" screws and small washers to fit this. Then it will never knock off and fits like a normal plastic door pocket.

Footwell water tank by front runner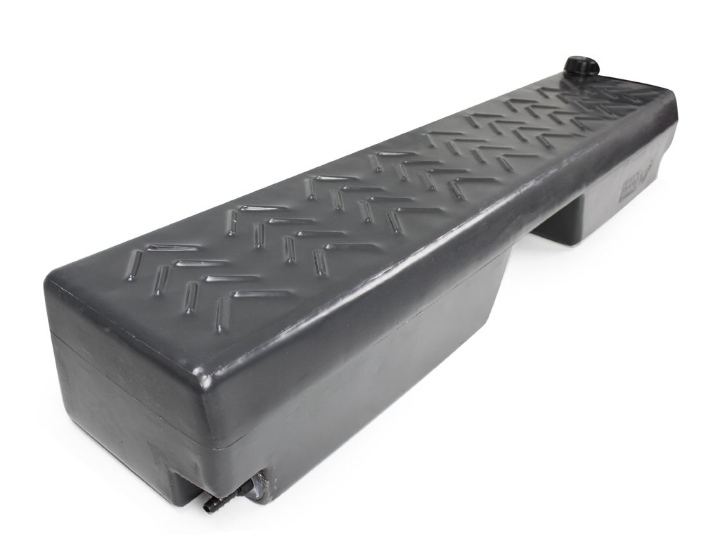 Average Price: $172.00
If you need extra capacity of water you can buy a footwell water tank from the front runner. It will perfectly fit the rear footwell area of your 4doors jeep wrangler and store 40l (10.6 gal) of water in it.
There are water inlets and outlets fit suitable for a jeep wrangler. Made from food grade polyethylene and can fit taps to take water out.
Mostly suitable if you drive without passengers in the rear seat or just with kids on the rear.

Remove rear seats.
If you are travelling alone or with another one parson then the first modification you can do is removing your rear seats. It gives you a whole lot of space and ability to get more space easily.


Storage Mods For cargo Area

Hi-Lift Jack and Accessory Mount Combo Kit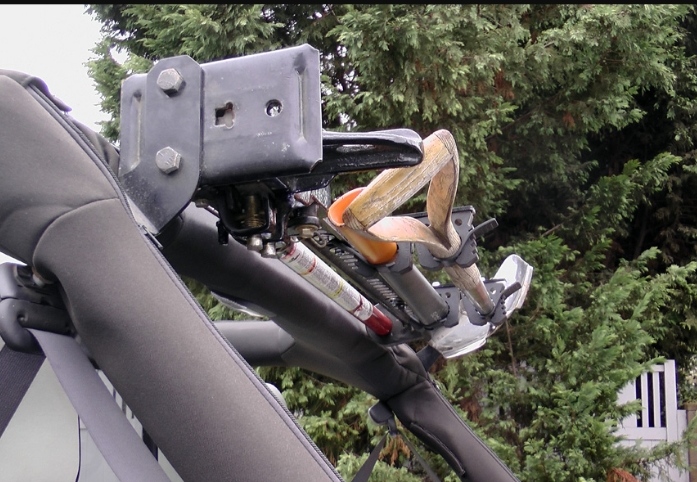 Check Price on Amazon
In off road trips Hi-lift jack, showels and Axe may not be used often. But when we need them, no other equipment does their job. That's why it's better to bring them every time when we hit the trails.
But we don't want our Hi-lift jacks, showels rolling everywhere in our jeep when we drive on trails. This stealth mount kit stores jacks in an easily accessible place without consuming our valuable space.Hi-lift jack, Axe and shovel mounts in one combo kit.
Smittybilt Black G.E.A.R. Tailgate Cover for Jeep Wrangler JK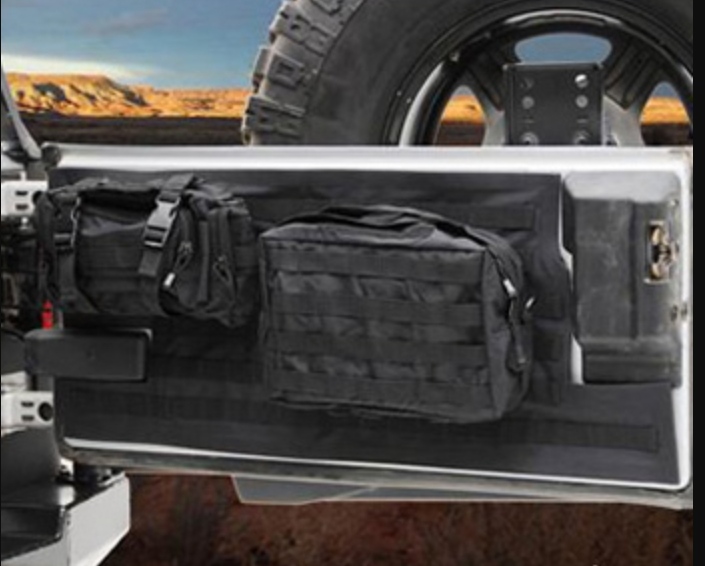 Check Price on Amazon
If you don't need a tailgate table for your jeep, you can think about fitting a gear tailgate cover and molle pouches to the tailgate.
It will give you extra space to mount your frequently using tools in an easily accessible place.


2007-2012 Jeep Wrangler JK Black Tuffy Locking Cubby Cover
The factory cubby cover of the jeep wrangler is a bit flimsy one. If you need to place your valuable tools inside a hidden lockable place under your jeep floor, this is the solution for that.
This was constructed with heavy duty 16 gauge and ⅛" thick welded steel. There's a pry-guard locking system.
This gives not only a secure floor compartment but also a sturdy and durable deck floor.

Jeep Wrangler Foldable Cargo Storage Box with Rope Handles

Check Price on Amazon
As a trunk organizer this can be used in your jeep cargo area. You get a 36.2" x 13" x 11"(L x W x H) large storage area.
There you get 3 large sections for storage and 6 mesh pockets outside. Important thing is this is tightly foldable when not in use. 


Front Runner Off-Road Jeep JK Unlimited Cargo Carrier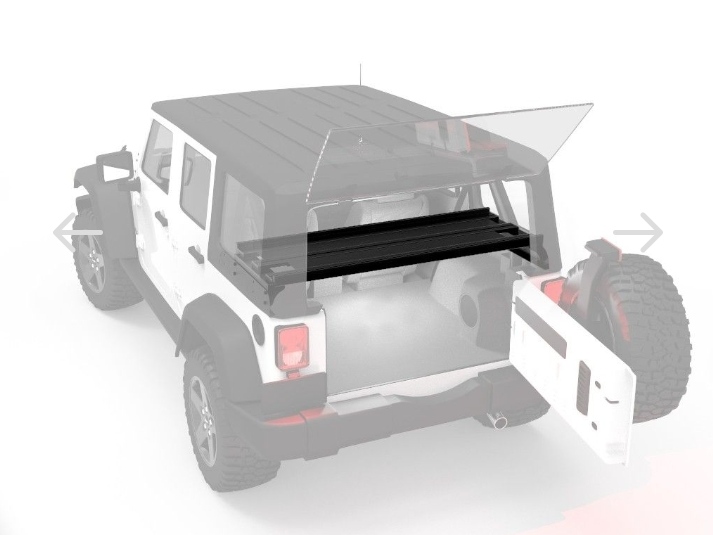 Check Price on Amazon
A shelve fitted to cargo space is a popular modification among jeep off roaders and over landers.
That's because it divides the cargo area into two parts above and below. With that it gives more space to put luggage in a more organized way.
This front runner fits high enough to fit a standard size refrigerator underside. With front runner universal corner brackets you can fit this to hold heavy weight like water tanks and cargo boxes for off roading.


Teraflex shelf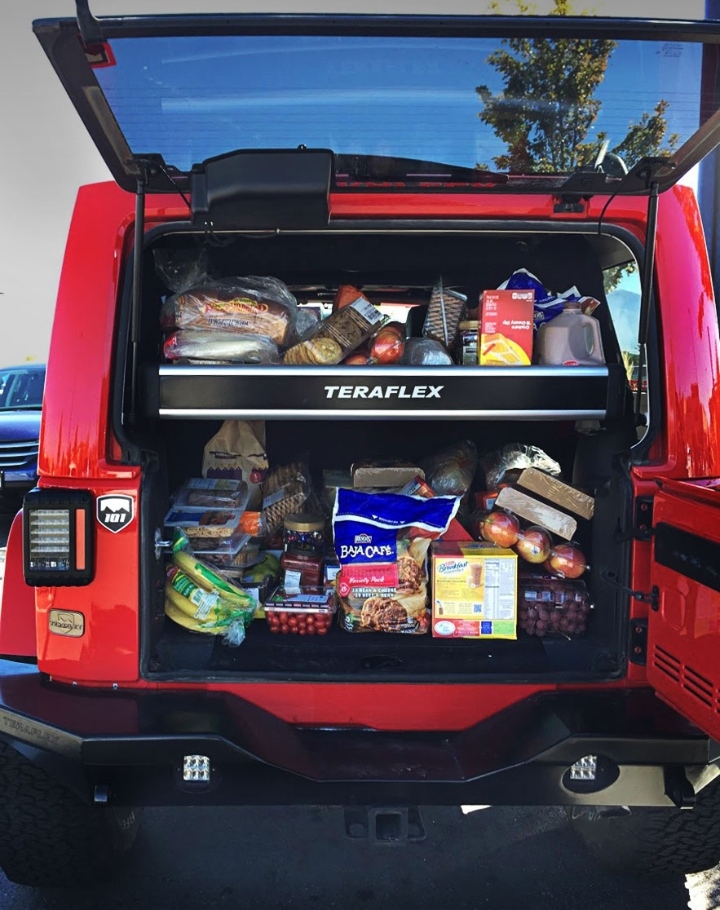 This teraflex shelf is more popular among jeepers. Hight can be adjusted.
SPECS: Total height: 5. 24" Total width: 45. 19" Total depth: 26. 56" Weight: 33 lbs.
Don't need any drilling. bolt on installation. Extruded aluminium construction for reduced weight.
You can do some modification to this teraflex shelves by cutting out a piece from the front side for easy access.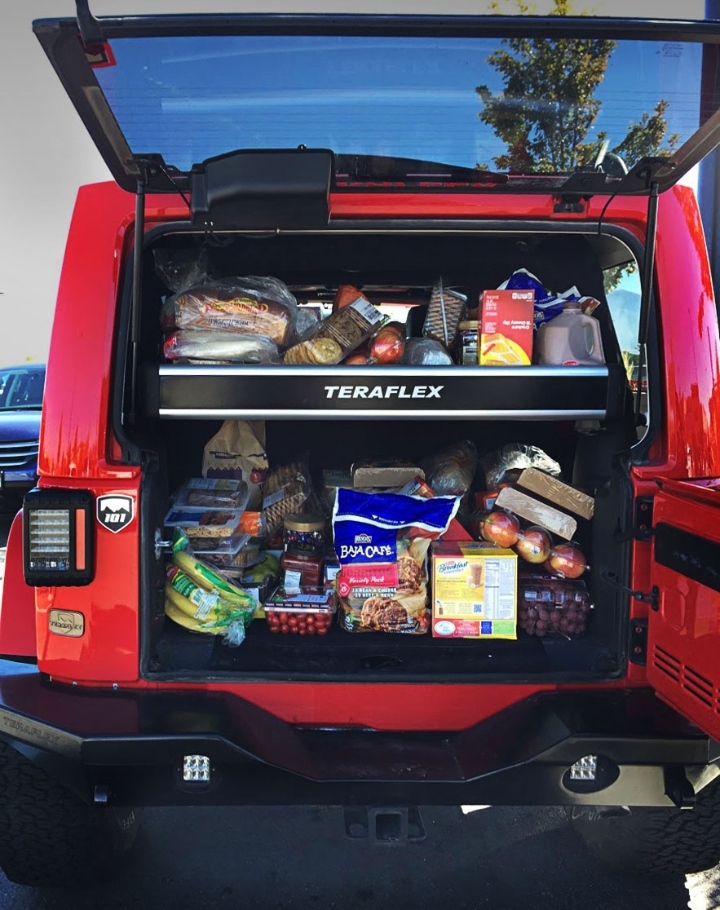 Wrangler cargo net
Check Price on Amazon
Cargo net is not a big deal. But on some occasions this will come handy to keep things in the cargo area safe and sound. It's worth keeping one in the jeep for just a few bucks.

Tailgate table
Check Price on Amazon
Tailgate table is a foldable table when not in use. This is useful to cut food items at the camping sites. You can buy this with a cutting board if you want.
Apart from that this is useful to hold laptops, beer cans and things at camp sites when working around the back of the jeep. Easy extra space from a simple mod.

Storage Mods For Roof Top

Roof racks.
Another excellent way to improve the wrangler space massively is installing a roof rack. I wrote all the best roof rack options for wrangler and their prices in my roof top tent article. You can read that by clicking here.

Waterproof bag
Check Price on Amazon
If you installed a roof rack you can put extra luggage on the roof rack with this kind of waterproof bag.
Roof masters have a good bag for this. It's recommended by the users and it's truly waterproof. Even the zippers are made for waterproofing the inside. You don't need to worry about wet clothes anymore.

Extra External Storage Mods

Tailgate Rack basket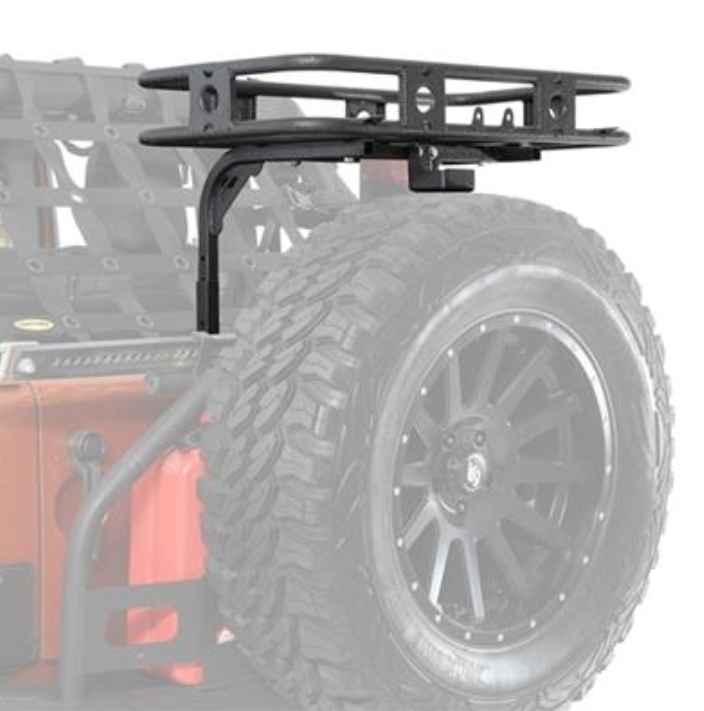 Check Price on Amazon  
This is a cool mod you can do to your tailgate to get a space of 32″ wide x 18″ deep x 4″ tall. This can hold up to 35lbs (15.87kg) on it. Made
of heavy-duty 16 gauge, fully welded 1 inch steel tube. You don't need drilling to install this. Bolt on installation. Adjustable height. Gives easy extra space.


Trailgater tire table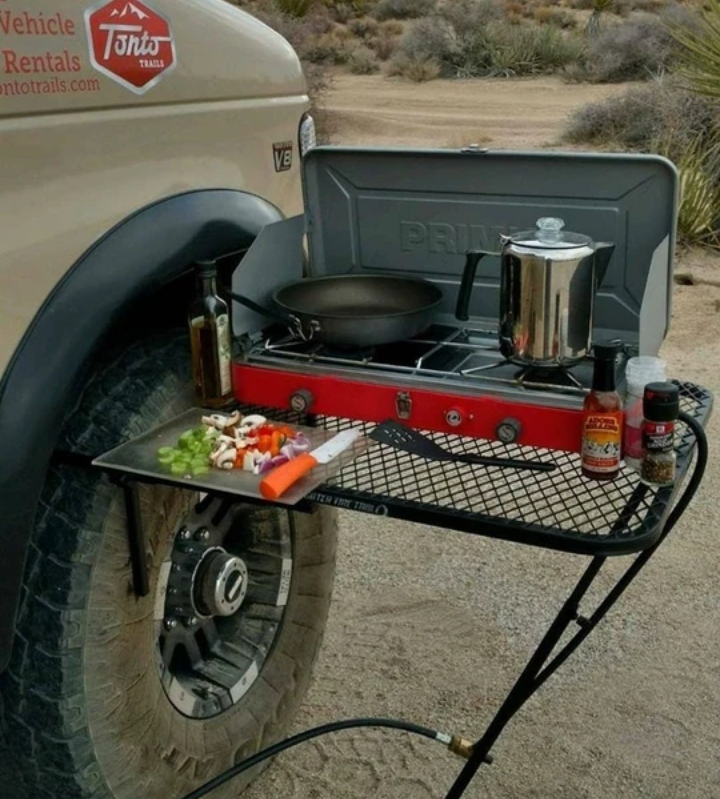 Approximate price: $139

This is an easy foldable table that will be useful when camping and outdoor adventures. This can unfold and easily mount to the jeeps tire.
For extra strength you can unfold and fix the third adjustable leg. This can be folded and easily put somewhere on the jeep without interrupting other luggage of the jeep.

Cargo hitch racks and waterproof bags
A 4door jeep with a roof rack may not need this. But for a small size jeep specially 2door jeeps may get benefit from this.
You can use your hitch mount to install an extra rack to keep your luggage. There are lifted versions of this to eliminate ground clearance problems.
But if your jeep has rear parking sensors, they may obstruct with this kind of rack.

Spare wheel trash bags
Check Price on Amazon
We don't want to get all the camping garbage inside to our jeep. But it's not suitable to put them around the camp sites. we should not leave our trash on the camp sites.
So the best way to manage that is buying spare wheel trash bags.
We can easily keep all the trash there outside the jeep. Easy access and extra storage space for the trash.
These mods will improve your jeep's limited storage space as much as you want for an overlanding trip.
If you like to add some cool mods to your wrangler buddy without breaking the bank you can read my guide on wrangler mods under $100 by clicking here.

If you found this article helpful, share with others. You just have to click a share button below.

Peace!