Fording through water while off roading is a cool thing. But a bit of water entering the piston chambers can cause a huge damage to our engines. That's why taking precautions is most important. Installing a snorkel is the best precaution that can be taken before getting into such disasters.
In this guide I'll show you the best 3 snorkels you can fit to your wrangler jk or jl and their pros and cons. They are as follows. 


Top pick
Mopar performance snorkel kit (jk & jl)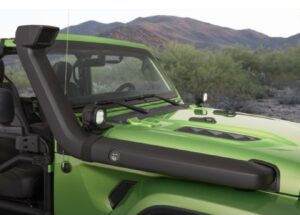 Check Price on Amazon
Mopar performance snorkel kit is one of the best snorkel kits you can buy on the market right now. This has both jk and jl versions. Made with tough polyethylene plastic. So this is tough enough to resist abuses on off roading trails. 
This needs some modifications to your hood for installation. You have to cut a hole to fit this. Another thing is that this snorkel is a bit more expensive than other snorkels. But you get what you pay for with mopar snorkel.
It directs cool and clean air to the engine while giving an adventurer look to your jeep.

Best overall
AEV snorkel kit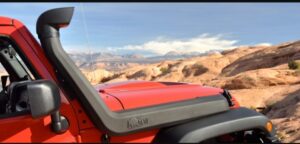 This the next best snorkel option you have for your jeep. Easier to install and gives a good finish and great look. AEV manufactured this snorkel with high quality cross link polyurethane. This mounts directly with the factory air box.
To enter the snorkel into the hood this may require a hole on the hood. Snorkel attach firmly to the jeep body with existing mounting points. So you don't have to worry about off-roading on trails with a lot of branches hanging to your way or scratch on rocks. There is an anti-rattle sleeve for factory FM antennas.
The air passage is much wider to carry more clean and cold air to the engine.
This has a RAM type air intake with 4″ opening. With this snorkel, air intake level raises about 2 feet from the stock. It allows a cooler and clean air intake for the engine. You can add an extra pre air filter (cyclonic pre-filter)for this snorkel if you need. This will be useful for driving on dusty trails.
Nothing to mention as a downside of this snorkel. Price also fair. If you use a pre-filler head that may not be compatible with some hood racks like GOBI.

Also great
River raider snorkel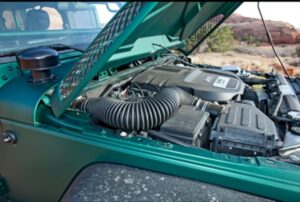 River rider is a great snorkel option you can go for if you don't want a huge pillar near your windshield.
This fits near your passenger side wiper. The head placed below the visible level of the passenger. This comes handy when you have roof racks, windshield mounted lights on your jeep.
This doesn't want huge modifications to fit on your jeep. You don't need to cut large holes on the hood. This has a stainless steel head with black satin finish. The snorkel airway goes under the hood. So the only visible part to outside is the snorkel head.
This has very few connections down there. It reduces the chances of failing or leaking.
You can easily increase the stock air intake height with this snorkel while improving the throttle response to a visible amount with cold and clean air intake. If you want to cross more deep water you can add an 18″ extension and raise the snorkel head.
After fitting this you can't open your hood and sit it on the windshield. You can sit the hood on the snorkel head.
You have to remove the head if you want to lower the windshield.
These 3 snorkels are the best snorkels you can buy for you wrangler jk or jl. There are many other snorkels from different manufacturers. But considering a whole lot of user reviews and opinions, others have their own different defects.
As examples Some have a lot of joints that lead to potential failures with the time. Some snorkel designs have a lot of bends that restrict the air flow to the engine. Some snorkels aren't built with tough materials. So they can be damaged easily on the trails.
If you think this article may be helpful for your off roading buddy share with them. You just have to hit a share button below!n Peace!!